Speed of Sound Technologies in Milford has specialized in vehicle security systems since our inception in 2004. Nowadays, the cost of a vehicle will often be your second largest investment after buying a home. For that reason alone, adding an alarm system to your vehicle just makes good sense. Our products are on the cutting edge of technology, our installation work is reference standard and all products are well concealed.
Don't Trust Your Factory Security System
Years and years ago, vehicles didn't come with factory-installed security systems. Along the way, manufacturers started offering them as a marketing ploy to give them a differential advantage over their competition. Today, most cars, trucks and SUVs on the road have some type of these deterrent devices. The sad reality is, they are very simple products that have given consumers a false sense of security for over a decade. A well-designed, properly installed aftermarket security system is truly needed to protect your ride.
Different Ways To Monitor the System
Our team has several solutions available, enabling us to meet the unique needs of each and every client. Our basic system uses a one-way remote, much like your factory keyless entry system, to arm and disarm the security system. The alert will be via the siren and flashing of the parking lights.
If you step up to a two-way system, the remote control can get notification of someone tampering with your vehicle. This is especially helpful if you might be out of earshot or in a louder environment like a sports bar, for example.
The ultimate way to monitor your vehicle is with one of our smartphone solutions. You can completely control the system and get alerts right to your phone from almost anywhere. When you add in the capability to remotely track your prized possession, it truly is the best way to control a modern security system. And yes, you can do a combination of any of these three methods, and our team will work with you to find the combination that works best for you.
Optional Sensors for Additional Protection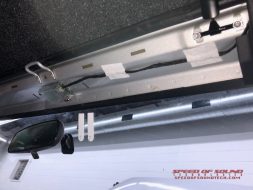 Another aspect that separates our systems from a factory one is the optional sensors. We have shock sensors that detect an impact to your vehicle. A glass breakage sensor does just what is sounds like, and a proximity sensor alerts you if someone enters a preset space around your car. Our tilt sensors can alert you if someone is trying to tow your car or steal your wheels off it.
Come Experience Us for Yourself
The next step in getting a security system for your vehicle is to stop into Speed of Sound Technologies or simply click HERE. Let us show you why year after year, more and more people trust us.