Speed of Sound Technologies in Milford is proud to be a Llumar SelectPro FormulaOne dealer for automotive window tint. Llumar is the world's largest manufacturer of window film, and only a select few retailers are chosen for this honor. A combination of our facility, attention to detail and quality of workmanship allows us to outperform our competition. If you are looking for the area's finest quality work, come see us.
Window Tint Goes Way Beyond Cosmetics
While it is true that adding window tint to your car, truck or SUV will improve its appearance, modern films can offer many performance- and life-improving benefits as well. Follow along as we explore our three films in more detail.
AFC Classic Formula One
Our entry level film is color-stable dyed film that is guaranteed for life not to change color, crack or de-laminate. It offers a 99.9% reduction in the sun's harmful UV rays, helping to protect your skin and the interior of your vehicle from damage. If you are looking for a high-value product, this is it.
Pinnacle Formula One
When you step up to our ceramic film, you start to gain many of the performance benefits that can really improve your life and comfort while driving your vehicle. You get a reduction in heat so you don't have to cringe at opening your car door on a hot summer day. You also gain noticeable benefits in glare reduction, making it easier to see during the day and at night when dealing with oncoming headlights, especially when it's raining.
Formula One Stratos, Our Flagship Product
If you're looking for the ultimate window tint for your vehicle, you just found it. Imagine up to a 95% reduction in the sun's heat! Add to that the greatest window film clarity we have ever seen, rivaling a set of prescription sunglasses, and you end up with a product that is truly a game-changer.
Installation Quality That Is Considered Obsessive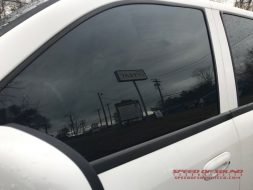 Just as important as the film you choose is the quality of the installation. Our team uses a computer-controlled plotter to cut our tint, unlike most shops that will use your vehicle as a cutting board. Our dedicated tint area was designed from the ground up to give us the most dirt-free, best-visibility environment around. Add in our relentless attention to detail and you get a final product that is unrivaled in our area.
Stop In and See Us
The final step in getting the area's finest window tinting is to stop into Speed of Sound Technologies or simply click HERE to be taken to our contact form. One of our team members will work with you to find the best solution for your needs. Let us show you why year after year, more people chose us to tint their car, truck or SUV.
Test Drive Your Tint Now!