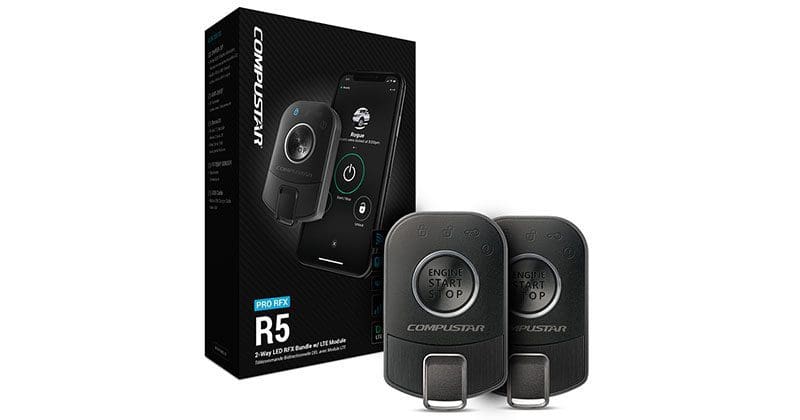 Compustar, the world-leader in high-performance remote start and security systems, recently introduced the new PRO R5 remote. This one-button remote boasts up to 2 miles of range and includes a proximity unlocking feature that makes it easier than ever to use. If convenience and reliability are at the top of your vehicle convenience upgrade shopping list, then you're looking at the perfect solution.
Long-Range RF Performance Improves Connectivity
The PRO R5 remote uses spread-spectrum technology to deliver up to 2 miles of range. If you live in an apartment or work in a large store, this impressive transmitting power helps ensure that you can remote start your vehicle a few minutes before it's time to leave.
The R5 includes four LED-illuminated pictographic icons that let you know when the lock, unlock and remote start commands have been received and executed. Tapping the button once will send the lock command. Tapping the button twice sends the unlock command. Pressing and holding the button for about three seconds initiates the remote start sequence. If the vehicle has already been remote-started, you can shut it down by pressing and holding the button for three seconds.
Another cool feature of the PRO R5 is its ability to alert the owner if the security system is triggered. This type of notification is a new feature for a one-button remote.
Proximity Unlocking Adds Convenience
The new PRO R5, just like its big brother, the PRO T13, includes a feature called proximity unlocking. When you are within 3 to 6 feet of the Compustar antenna on the windshield of your vehicle, the system will automatically unlock the doors. If you're carrying groceries, tools or perhaps a child, not having to dig through your pockets or purse to unlock the vehicle is incredibly handy. Once unlocked, pull the door handle to open the door, and you can load everything or everyone into the vehicle.
Compustar has included a customization option in the R5 programming to let you turn off the proximity feature remotely. You can also toggle silent arming/disarming through the same configuration process. Finally, you can turn the remote off completely to save the battery if you are going on vacation or will be away from the vehicle for an extended period of time.
Industry Reference Reliability
Compustar remote start and security systems are widely recognized as the benchmark for performance and reliability in the mobile enhancement industry. The R5 features the same robust construction and water-resistant design that have earned the company its much-lauded reputation. If you're prone to dropping your keys when exiting your vehicle, this remote should be able to handle the abuse. Compustar backs their PRO-Series remotes with a three-year warranty.
The PRO R5 remote is powered by a lithium-ion battery, so you don't have to worry about buying coin cells. A micro-USB port makes it as easy to recharge the remote as it is to charge a smartphone. You can even use a powered USB port in your vehicle to top up the battery on the way to or home from work.
Drone Telematics Ensures Unlimited Connectivity
When you purchase the RF-P2WR5-SF kit, you will get a pair of the PRO R5 remote controls and one of the Drone X1-LTE interfaces. When connected to your remote starter or security system, Drone allows you to control your vehicle from an app on your smartphone. All you have to do is tap an icon on your phone and you can lock, unlock or remote start your vehicle from anywhere you have access to an internet connection. You can choose from several Drone service plans that include GPS-based alerts to further enhance your ability to monitor your vehicle.
Compustar Is the Leader in Remote Start Technology
If you want to upgrade an existing Compustar, RTX, Arctic Start or iDatastart system, or are shopping for a new solution for your vehicle, drop by your local Compustar dealer and ask about the new PRO R5 remotes. You can find a dealer using the Compustar website. For updates on the latest product and feature introductions from Compustar, visit their Facebook and Instagram pages and their YouTube channel.
This article is written and produced by the team at www.BestCarAudio.com. Reproduction or use of any kind is prohibited without the express written permission of 1sixty8 media.