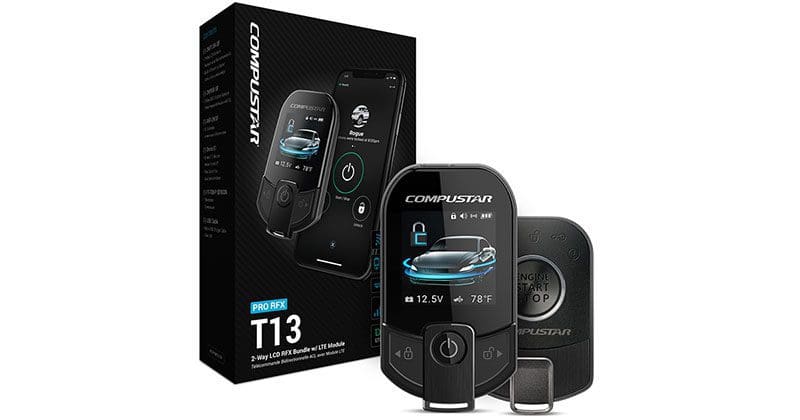 Car or truck owners looking for a remote start solution with the most features and longest range will want to check out the new PRO T13 remote kit from Compustar. Considered the new benchmark for performance, the T13 combines an amazing 3 miles of range with a color LCD screen and the new Proximity Unlock feature. If that isn't enough, the T13 includes a built-in rechargeable battery, water-resistant case and reliability that has made Compustar the quality leader in the car starter industry.
Compustar PRO T13 Design and Features
The first thing you'll notice is a bright color LCD screen that includes graphics that show when your vehicle is locked, unlocked or remote started. You can also see the voltage of the vehicle battery as well as the interior temperature. Of course, because it features 2-way communication, you'll always know if the commands you've sent have been received and executed at the vehicle. Lastly, the screen shows the remote's battery level and whether audible or vibration alerts are active.
Though the remote only has three buttons, the intuitive design allows you to access a variety of secondary options like trunk release, car finder and auxiliary outputs. In all, more than 50 commands and setting options are available to give you complete, personalized control over your vehicle. You can even change the language from English to Spanish or French.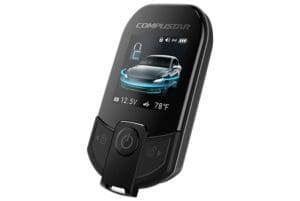 A built-in lithium-ion rechargeable battery powers the T13. A micro-USB connection on the top of the remote makes charging easy. You can recharge the remote using a powered USB port in your vehicle while you drive. The battery lasts about 45 days on a full charge with systems that don't include security features.
Finally, the T13 remote is waterproof and is built with reinforced high-strength materials to withstand the abuse that comes with being sat on or occasionally dropped in a puddle or snowbank. Compustar backs all PRO-Series remotes with a three-year warranty.
Proximity Unlock Feature
A new and unique capability of the PRO T13 is the Proximity Unlock feature. If you're leaving a store with your arms full of groceries or supplies, the vehicle will unlock automatically when you are within 3 to 6 feet of the Compustar antenna on the windshield. The antenna's centralized placement allows the system to work just as efficiently from the vehicle's passenger side. Fumbling with keys in your hands while you carry the kids or digging at the bottom of your purse will be an afterthought.
You can disable the Proximity Unlock feature with just a few quick button-presses on the remote if you are working nearby and want to keep your vehicle locked.
Industry-Leading Range Performance
If you've ever tried to use a remote start system from inside a large building, then you'll know how important it is to have as much range as possible. The PRO T13 remote uses spread-spectrum technology to provide up 3 miles (4.8 kilometers) of range. This incredible transmitting power means that you're more likely to be able to start your car from the depths of a warehouse, office tower or apartment than when using a remote that only offers 1 mile of range.
Companion Remote and Drone Telematics Included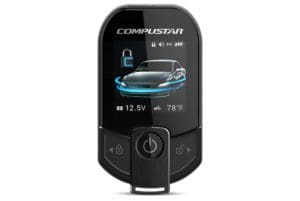 Known formally as the RFX-P2WT13-SF (in the United States), the kit includes the amazing color LCD PRO T13 remote, a one-button long-range PRO R5 remote, a Drone X1-LTE interface, an antenna and all the cables your installer will require to complete a new installation or upgrade an existing one.
This PRO R5 remote offers up to 2 miles (3.2 km) of range to make it easy for someone else in your home or for a co-worker to use your vehicle. The remote also features the same easy-to-charge lithium-ion battery as the T13. Even though it has the most intuitive interface available, the Proximity Unlock feature makes it easy to get into your car or truck without having to search for the keys.
If you're shopping in the United States, then your PRO T13 remote system will include one of the Drone X1-LTE telematics interfaces. When combined with an app on your smartphone, Drone lets you control and monitor your vehicle from anywhere you have cellular data access. You could be on the other side of the city or vacationing in another state – you'll still be able to monitor the vehicle. Your local authorized Drone retailer can help you choose the right Drone service plan for your needs.
Upgrade Your Vehicle with Compustar Convenience Today
Whether you're shopping for a new remote car starter or already have a Compustar, Arctic Start, RTX or iDatastart system in your vehicle, your local authorized Compustar PRO retailer can get you set up with the new PRO T13 remote system today! You can find a shop near you by visiting the Find a Dealer page on the Compustar website. Be sure to visit Compustar's Facebook and Instagram pages and their YouTube Channel to learn more about their amazing products.
This article is written and produced by the team at www.BestCarAudio.com. Reproduction or use of any kind is prohibited without the express written permission of 1sixty8 media.