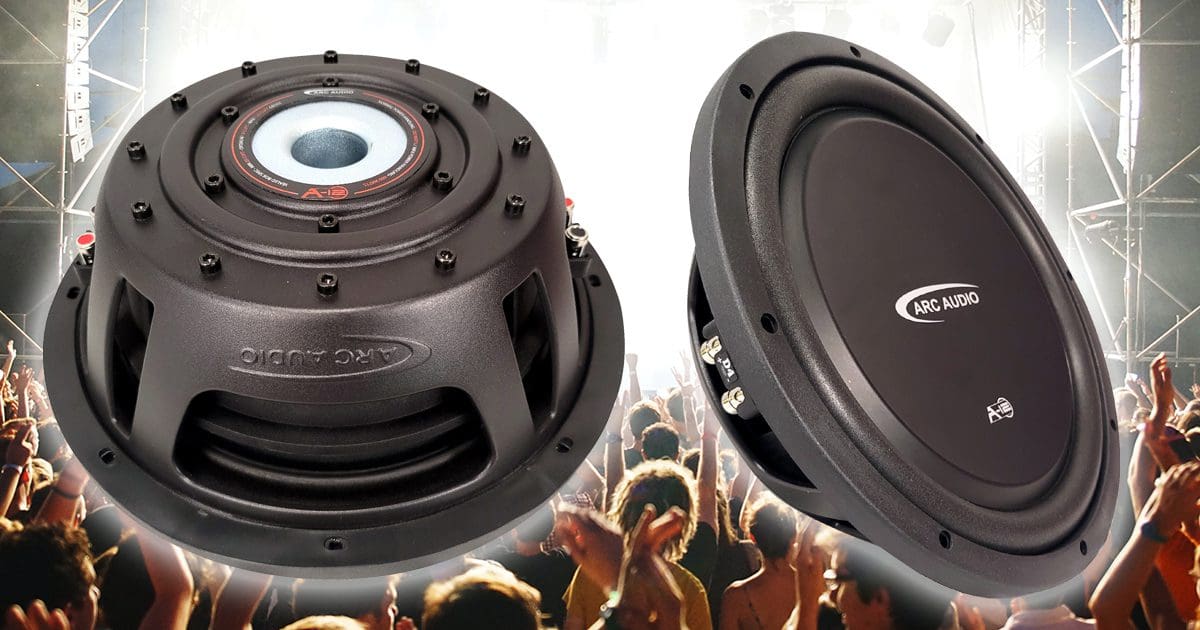 The team at ARC Audio in Modesto, California, has a solution for those who want big bass from compact enclosures. The ARC Audio A-Series shallow-mount subwoofers are available in both 10- and 12-inch sizes with your choice of dual 2- or 4-ohm voice coils. Most importantly, they can dish out impressively articulate and detailed bass from applications where conventional full-size subwoofers simply won't fit. If you've been lucky enough to hear ARC Audio's Ford Flex with three of the A10s in a 1.3-cubic-foot enclosure, we're sure you'll agree! Let's check them out.
ARC Audio A-Series Subwoofer Features
The A-Series subwoofers are available in both 10- and 12-inch diameter in dual 2- and dual 4-ohm voice coil configurations. The subwoofers are based on heavy-gauge, deep-draw, stamped-steel chassis that are finished with a fine-textured Dark Charcoal Grey Powder Coat paint. The frame has four large open windows and four sets of twin spokes. All the opening edges are rolled over to add strength to the design and give it a cast-basket appearance. A custom-tooled, fiberglass-reinforced thermoplastic frame bolted to the rear of the basket provides a mounting surface for the twisted-pile polycotton and Nomex progressive spider. As this is a custom part, the driver can use a flat spider rather than a cupped design that might introduce unwanted linearity issues. This spacer also features the mounts for the pair of chrome-plated, spring-loaded terminals on opposing sides.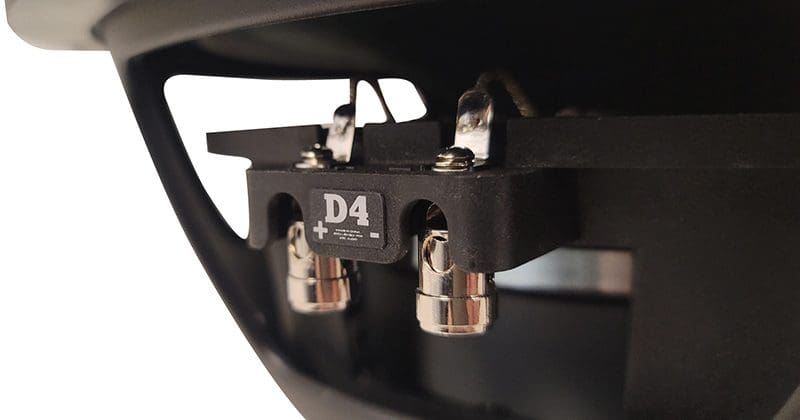 The bottom plate with its integrated T-yoke and massive cooling vent, along with a large-diameter ceramic magnet and the 9.8-mm-thick top plate, are bolted to the center of the assembly to form the motor structure. All of these components, along with the proprietary spider spacer, are secured with high-strength, high-temperature adhesives and mechanical fasteners, so there's no concern over anything ever working loose.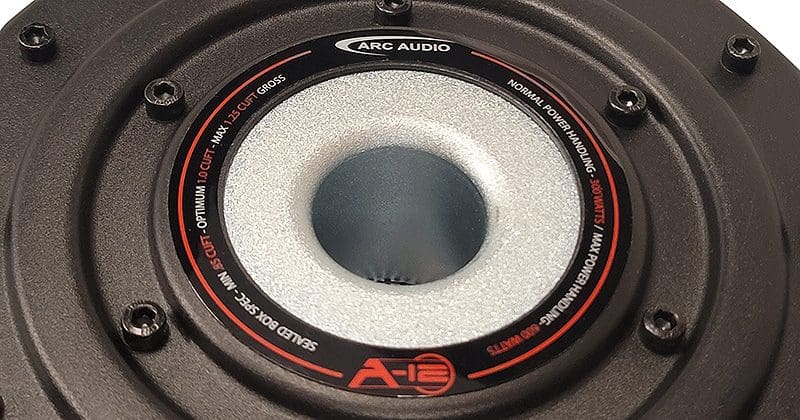 In terms of soft parts (a term given to those components that move forward and rearward to produce sound), the A-Series subwoofers start with a spun-laced Nomex former surrounded by a Totoku triple-insulated copper voice coil winding. The ARC Audio transducer design team is passionate about its products meeting (and exceeding) thermal power handling specifications, so they always overdo things in this department – hence the premium shielded copper conductors. It's also worth noting that the A12 drivers use a 3-inch diameter voice coil, with the A10 having a 2.5-inch one. This explains the difference in power handling between the 10s and 12s.
The voice coil assembly drives a progressive-taper, poly-injected, pulp paper cone that's impressively rigid and well-damped for its weight. A reinforced polypropylene dust cap with the ARC Audio and A-Series logos on the front serves as the visible face of the drivers. The surround is made from UV-treated polyether to provide a flexible connection that will resist drying out or being damaged by humidity. It's worth noting that polyether's compliance doesn't vary with temperature changes as much as other materials. If you live somewhere where it gets cold in the winter, you'll still be able to enjoy your music.
A factor that many companies overlook in developing and constructing subwoofers and speakers is the application of adhesives. ARC Audio cleans and laser-etches all surfaces onto which adhesives will be applied to ensure a solid bond. Further, the assembly facility is temperature- and, crucially, humidity-controlled so that the application and curing process will result in the best adhesion and reliability possible. Yes, a manufacturer can have speakers constructed for a lot less money in a hot, humid and dusty warehouse, but guaranteeing that the products assembled there will stay together is a risky proposition.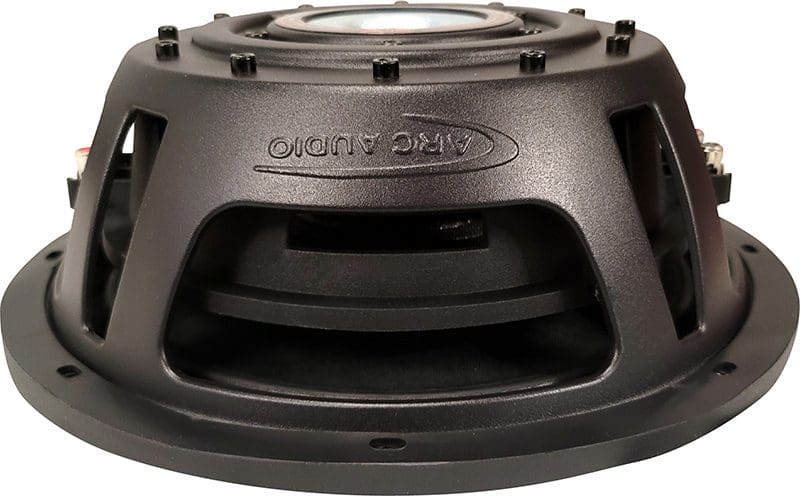 A-Series Shallow Subwoofer Specifications
The A-Series subwoofers offer impressive output and efficiency from minimal amounts of power. The 10-inch drivers are rated for 250 watts of continuous power and 500 watts maximum. The 12-inch drivers bump those numbers to 300 and 600 watts, respectively.
From a Thiele/Small parameter perspective, the A-Series subwoofers are designed with a very low resonant frequency (around 25 to 26 Hz, depending on the model) and a very compliant (soft) suspension. The Qts values are mid-pack between low and high, so the drivers produce a natural bump in their response when used in small, sealed enclosures. The drivers work amazingly well in moderately sized vented enclosures if you have the room and want more low-frequency output.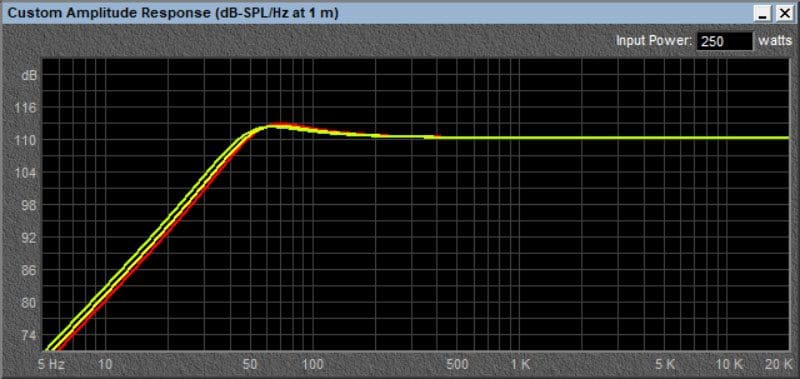 What seems to matter most to those looking at shallow-mount subwoofer specifications are the driver's cone excursion values. We were told that both the A10 and A12 subwoofers have an Xmax spec of 15.2 mm. The subwoofers are a little taller than some in their class, with a 3.77-inch mounting depth requirement for either size. As a side note, your installer will also want to leave some room behind the sizeable cooling vent in the center of the T-yoke to prevent pressure build-up under the dust cap.

If you're shopping for a shallow-mount subwoofer system that will make listening to music exponentially more enjoyable, drop by your local authorized ARC Audio retailer and ask about the new A-Series subwoofers. You can find a retailer near you by using the Dealer Locator on the ARC Audio website. Be sure to keep up with the latest news from the lads and lasses from Modesto by liking their Facebook page, Instagram feed and the ARCtv YouTube channel.
This article is written and produced by the team at www.BestCarAudio.com. Reproduction or use of any kind is prohibited without the express written permission of 1sixty8 media.