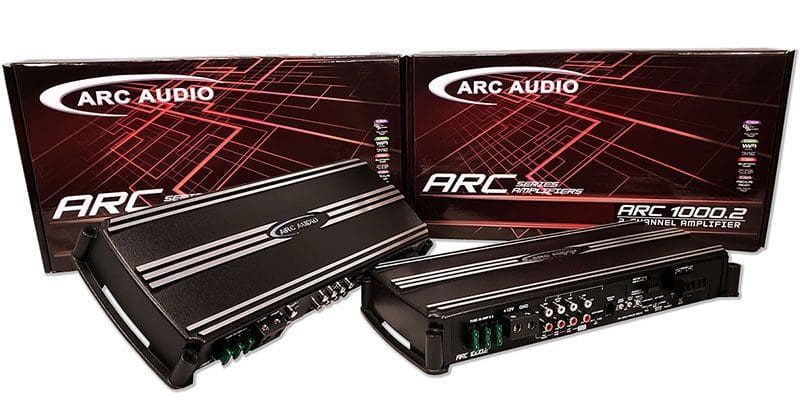 Based in Modesto, California, ARC Audio is one of the few mobile electronics companies that still designs its amplifiers from scratch in the United States. The ARC Series trio of amplifiers represents a high-performance mobile audio amplification solution that incorporates features that aren't available from competing products. Let's take a look at what makes the ARC 1000.2, ARC 1000.4 and ARC 1000.6 truly special.
Premium Car Audio Amplifier Solutions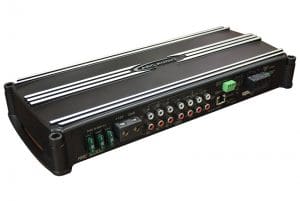 Combining the latest high-frequency Class-D driver technology with the engineering experience and acumen of the ARC Audio team, the three ARC Series amplifiers not only produce impressive amounts of power, but they also sound amazing. Each amplifier is housed in an identical custom-tooled cast-aluminum heatsink. Four large hex-head cap screws (that conceal the mounting locations) and seven machined fins across the top of the amp provide classy contrast against the textured matte black powder coat finish. All the connections and controls for the amp are placed along the bottom edge to simplify installation, configuration and calibration. Power connections are made using a chassis-mounted terminal block that accepts 4-AWG cable, and speaker and remote connections are on quick-release plugs. All amplifiers include on-board fusing, so there aren't any surprises at installation time.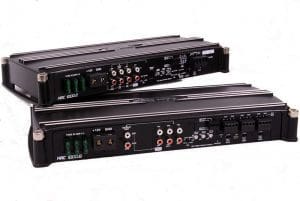 The ARC amplifier family includes the ARC 1000.2 two-channel amp that produces up to 500 watts per channel into a 4-ohm load, 600 watts into a 2-ohm load, and 1,200 watts when both channels are bridged to a single four-ohm subwoofer. The ARC 1000.4 is a four-channel amp rated at 250 watts per channel into 2 or 4 ohms, and each pair of channels can be bridged to provide 500 watts to a single 4-ohm load. The ARC 1000.6 produces a beefy 175 watts from each of its six channels at 2- or 4-ohm impedances. Each of the three channel pairs can be bridged to produce up to 350 watts into 4-ohm loads. Switches underneath each speaker connector change the internal supply voltage to optimize power delivery so that 2- and 4-ohm power production is similar.
Amplifier Common Features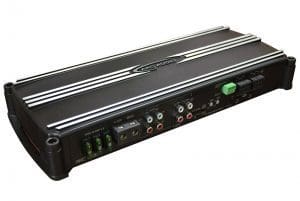 All ARC Series amplifiers use balanced differential inputs capable of up to 4 volts of input with the default analog signal input card or up to 32 volts input with the optional IPS8.8 DSP card in place This higher level of signal input range is optimum for connections with factory amplified OEM systems and from some higher output OEM radios. At a quick glance, you'll notice that there don't appear to be many signal processing options on the ARC Series amplifiers. The ARC 1000.2 has a variable high- or low-pass crossover while the four- and six-channel amplifiers don't have any crossovers at all. ARC Audio designed the analog signal processing portion of these amplifiers to be easily removable so that they can be used with any of the Pro-Series DSP processors from ARC Audio. If space is a limitation in your vehicle, each model of ARC Series amplifiers can he upgraded with the IPS8.8 Pro Series digital signal processor by simply removing the front end signal input module and replacing it with the IPS8.8. We took a close look at the eight-channel Pro-Series DSP platform here.
Each amplifier has an Auto Sense switch that allows your installer to choose from the remote turn-on connection, DC voltage sensing and a signal sensing option in order to activate the amplifiers when connected to an aftermarket source unit or a factory-installed sound system.
Microprocessor-Controlled Features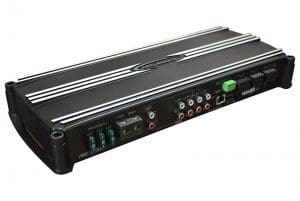 You will note that each amplifier has a micro-USB port on the front panel. This port exists even if you haven't opted for the IPS8.8 processor upgrade and provides access to adjust the color of the logo on top of the amp and to change the Class-D switching frequency. Knowing that high-frequency switching inherent in all Class-D designs can occasionally interfere with radio reception, the engineers at ARC allow access to adjust the switching frequency from 323.4 kHz to 450 kHz. In the unlikely event your ARC Series amp does affect radio reception in your application, your installer can resolve the issue with a few taps on his computer keyboard. No other amplifier manufacturer in the car audio industry includes this feature.
Build Your Car Audio System with ARC Audio Amplifiers
Whether you need the ARC 1000.2 to power a subwoofer or are designing a four-way fully active entertainment system with an ARC 1000.6 and an ARC 1000.2, these amplifiers will ensure amazing sound and unparalleled flexibility when upgraded with an IPS8.8 processor. Drop by your local authorized ARC Audio dealer and ask for a demonstration today. For more information about ARC Audio and their products, visit their website and follow them on Facebook, Twitter, Instagram and YouTube.
This article is written and produced by the team at www.BestCarAudio.com. Reproduction or use of any kind is prohibited without the express written permission of 1sixty8 media.