The X2 Series speakers from ARC Audio are designed as a high-performance drop-in upgrade for the factory-installed speakers that came with your car or truck. This speaker series was designed based on feedback from ARC Audio retailers around the world to deliver impressive quality and value. With a total of nine models, including a pair of component sets, there is an X2 speaker for almost every application.
Basket Design and Installation Features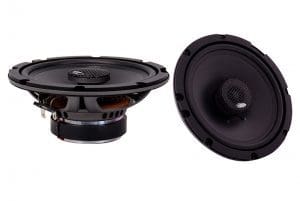 The X2 Series speakers were developed from scratch. Each speaker is based on a proprietary stamped steel basket. The baskets have spokes that are curved vertically and laterally to add rigidity to the design and prevent resonances. Integrated vents under the spider mounting plateau provide improved voice coil and top plate cooling while improving linearity at high excursion levels.
While conventional wisdom would suggest that a 6.5-inch class speaker would be suitable for all applications, the reality is that this speaker size has a variety of mounting and depth requirements. ARC Audio researched all the common applications and designed the X2 602 2-way coaxial and the woofer in the X2 6.2 component set with a 141.5 mm (5.57 inch) cutout requirement to fit into all applications. Mounting depth on these speakers is less than 2.4 inches.
Premium Design for Amazing Sound
While fit and flexibility are crucial, overall sound quality is the most important factor when choosing a speaker upgrade. ARC Audio's North American transducer design team worked with its partners in Denmark to optimize the electromechanical design of each speaker.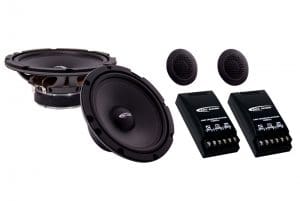 The woofers on the X2 Series feature glass fiber-reinforced polypropylene cones for excellent rigidity and damping characteristics. The cones are attached to butyl rubber surrounds for reliable performance in all climates. The tweeters in the coaxial speakers feature a 20 mm (0.79 inch) silk dome design and are powered by strong Y-35 neodymium magnets. Integrated phase plugs on the tweeters help to smooth response at high frequencies. The X2 5.2 5¼-inch and X2 6.2 6½-inch component sets use a large, low-resonance 27 mm soft dome tweeter to help raise the soundstage in instances where the tweeter is mounted in the sail panels, dash or A-pillars. These same tweeters are offered as a stand-alone solution in the X2 1.0 set. All X2 Series tweeters include wool sound-absorbing material in the cavity behind the tweeter diaphragm to absorb rearward energy and reduce distortion.
The coaxial X2 speakers use high-quality polypropylene capacitors as a filter for the tweeters to deliver a smooth frequency response. The component sets feature upgraded 12 dB/octave networks to lower the crossover point while maintaining power handling.
Power Handling and Efficiency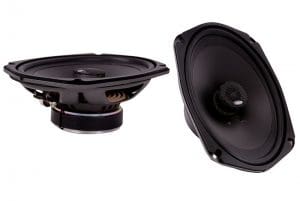 Part of the design process for the X2 Series was to ensure that the speakers would work well when powered by an aftermarket radio that produces 15 to 22 watts and still be able to handle more than 150 watts when connected to one of ARC Audio's large amplifiers like those found in the X2 Amplifier Series. ARC Audio invested significant effort in developing a voice coil that could handle high power levels while optimizing the overall design of each speaker for excellent efficiency in low-power applications. All speakers underwent extensive power handling tests with customized pink noise and dynamic sine sweeps at progressive power levels, and each failure point was addressed and upgraded until specific performance and power handling standards were met as the development process continued.
ARC Audio X2 Speaker Solutions
As mentioned, there are a total of nine solutions in the X2 Series. Offerings include the 4-inch X2 402, the 5¼-inch X2 502 and the popular 6.5-inch X2 602 round coaxial drivers. In terms of oval OEM sizes, the series includes the 4×6-inch X2 462, the 5×7-inch X2 572 and the 6×9-inch X2 692. We already discussed the 5¼-inch X2 5.2 and 6.5-inch X2 6.2 component sets and the X1 1.0 stand-alone tweeter sets. All X2 speaker solutions are sold in pairs and, because they're designed as OEM speaker upgrades, do not include grilles. However, grille options are available from ARC Audio in a variety of sizes and colors.
If you're interested in upgrading the sound system in your car or truck, drop by your local authorized ARC Audio retailer and ask for a demonstration of the new X2 Series speakers. We're sure you'll be impressed. For more information about ARC Audio and its products, visit its website and follow ARC Audio on Facebook, Twitter, Instagram and YouTube.
This article is written and produced by the team at www.BestCarAudio.com. Reproduction or use of any kind is prohibited without the express written permission of 1sixty8 media.