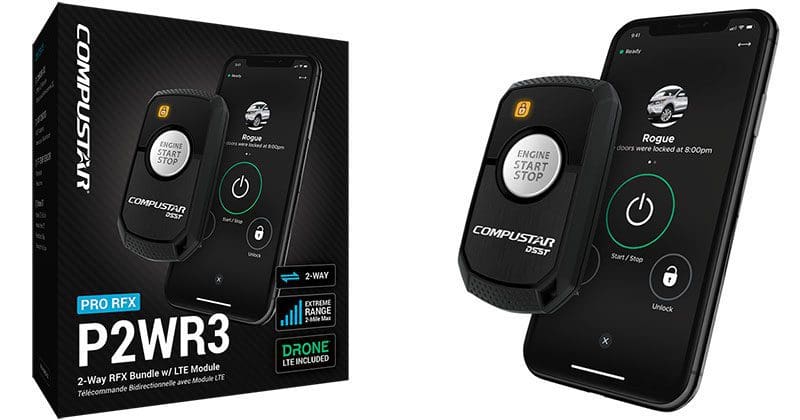 For 2020, Compustar, the world leader in remote car starter solutions, has upped its game by including a DroneMobile X1-LTE module with all of its 2-way remote bundles. For this spotlight, we are going to look at the RFX-P2WR3-SS Pro 2-way R3 with LTE package that features a single-button, long-range remote control and one of the new DroneMobile interfaces as a secondary way to control the starter system.
Compustar 2-Way R3 Remote Control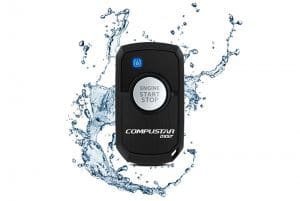 The radiofrequency (RF) remote included in this kit features a compact, one-button design that provides intuitive control over door locking and unlocking, as well as remote start functionality. A quick tap of the button locks the doors and, when equipped with optional security features, arms the alarm. Tapping the button twice in less than a second unlocks the doors and disarms the alarm. To remote start your car or truck, press and hold the button for three seconds. If you want to stop the engine, press and hold the button again for three seconds.
The Pro 2-way R3 remote uses digital spread-spectrum technology to provide up to 2 miles (3.2 km) of range under ideal conditions. This amazing performance helps ensure that you can start your vehicle while inside a shopping mall, an apartment tower or office building where electrical interference and concrete and metal stud walls reduce the efficacy of radio-frequency communication. The strong signal transmission power means there's no need to wait until you are outside to start your vehicle, and it will have more time to warm up.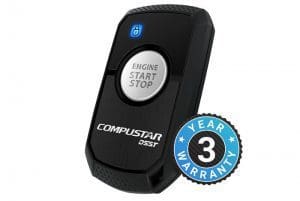 After each button press, an LED on the remote will flash to indicate that the command has been sent to the vehicle. Once the command has been executed by the system, the remote will beep, and an LED will flash. Unlike other products on the market, confirmation of remote starting is provided only once the engine is running. This two-way communication ensures that you always know the status of the vehicle.
Compustar Pro-Series remote controls are backed by an industry-leading three-year warranty against manufacturing defects. All of the remotes have a water-resistant design and feature a durable injection-molded plastic case that shrugs off day-to-day use and abuse.
DroneMobile Smartphone Control
DroneMobile is Compustar's smartphone remote control interface. The RFX-P2WR3-SS package includes one of the new DroneMobile X1-LTE interfaces as a companion to the RF remote. The X1-LTE module uses a cellular data connection to communicate with the DroneMobile app on your smartphone to provide an effectively unlimited range. DroneMobile allows you to start your vehicle from anywhere that your smartphone has internet access. You can check the status of your vehicle while you're in another country for business or vacation. As a bonus, if you've asked your retailer to add security features like the DAS II shock/motion/tilt sensor to your remote starter, the DroneMobile app will provide nearly instant alerts if the alarm is triggered.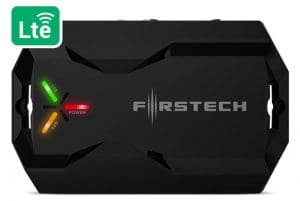 While the R3 remote is ready to control your remote starter out of the box, the DroneMobile service requires a subscription. Compustar includes 30 days of DroneMobile Premium service for free when you activate your account. After 30 days, you can pick from one of three service packages to ensure that you are always in touch with your vehicle. Compustar includes a key tag and hangtag to make it easy to remember the interface serial number when it comes time to register the system at DroneMobile.com.
The service packages include the Basic option that provides car control — locking, unlocking, trunk release (if installed) and remote start — as well as alarm alerts and vehicle status information. The popular Premium package adds GPS-based warnings, geofencing, and point of interest and curfew alert functionality. If you're a business owner, you may want to opt for the Premium Plus package that adds trip reporting in CSV format and idling alerts.
Never Get into an Uncomfortable Vehicle Again
If you dread cold winter mornings or scorching summer afternoons, visit your local authorized Compustar Pro dealer and ask about the new RFX-P2WR3-SS Pro R3 2-way with LTE remote package to make your car, truck or SUV more comfortable. For more information about Compustar products or to find a retailer near you, visit www.compustar.com. To keep up with the latest from the world's top remote starter brand, follow Compustar on Facebook, Twitter, Instagram and YouTube.
This article is written and produced by the team at www.BestCarAudio.com. Reproduction or use of any kind is prohibited without the express written permission of 1sixty8 media.