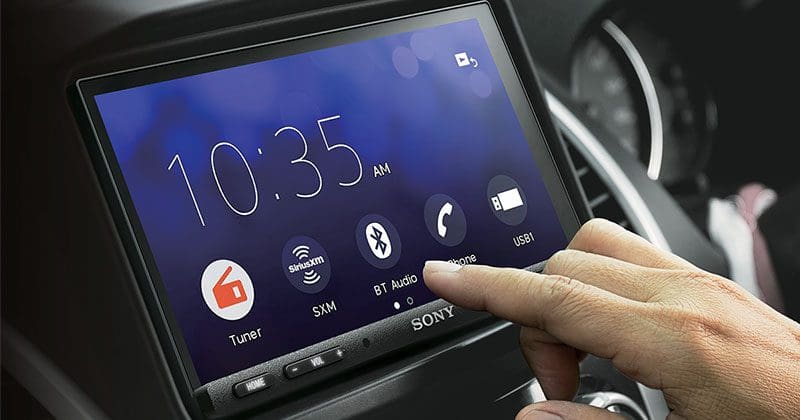 Sony car audio continues to introduce new multimedia receivers with features that everyone, from the car audio enthusiast to the daily commuter, loves. The latest addition is the double-DIN XAV-AX7000 that features a new 6.95-inch bright touchscreen, Apple CarPlay and Android Auto smartphone integration and Sony's High Power 45 watts-per-channel RMS amplifier for amazing sound! Read on to learn more about this impressive source unit.
High Power Amplifier for Better Sound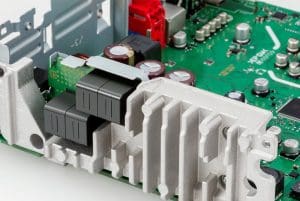 Most radios and receivers on the market include a four-channel amplifier IC that can produce about 20 watts of power per channel into a four-ohm load. Sony's High Power equipped receivers include a real power supply as would be used in a stand-alone amplifier. The power supply allows the radio to produce more than 45 watts of power per channel to a four-ohm load, and quite a bit more into a two-ohm load. That doubling of power helps keep your music clear and distortion-free when you crank up the volume.
The radio is compatible with both two- and four-ohm loads. Sony includes a configuration called Subwoofer Direct Mode, which allows your installer to use the front speaker outputs to drive one or more sets of speakers on the front speaker outputs, and use one of the rear speaker outputs to power a subwoofer system with a net impedance of two ohms. This flexibility allows for quite a few system configuration options and lets those people looking to stay on a budget with their audio upgrade aspirations get a complete system with a subwoofer without adding the extra costs of a small four-channel or subwoofer amplifier or the associated wiring and installation.
Bright Anti-Glare 6.95-Inch Display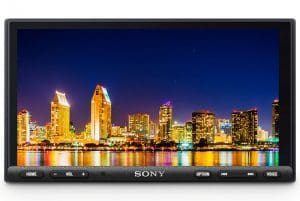 The touchscreen display on the XAV-AX7000 is the same size as that of the XAV-AX5000, but is brighter and features a new anti-glare coating. These properties make it much easier to see in bright sunlight situations common among convertibles, powersports vehicles and even motorcycles. The new coating is also compatible with polarized sunglasses, so you can still see the screen while protecting your eyes.
In keeping with the sports theme, Sony has made the frame around the AX7000 touchscreen and the five-button control panel beneath the screen are weather-resistant. No, you can't take it snorkeling in Mexico, but it can handle a little rain, being splashed or being on a motorcycle or in a Jeep overnight without condensation forming behind the screen.
Apple CarPlay and Android Auto Smartphone Integration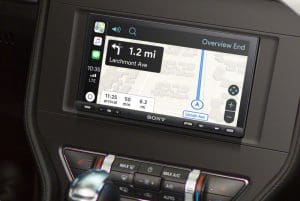 In terms of smartphone connectivity and features, the AX7000 is the same as the AX5000 in that it includes both Apple CarPlay and Android Auto voice control solutions. Once your phone is connected, you can request commonly used functions like sending text messages, making phone calls or choosing music by talking to the radio. Sony includes an external microphone for optimum clarity in outgoing calls and reliable phone command requests.
The AX7000 doesn't have built-in navigation but can use Google Maps or Waze from either an iPhone or Android device to help you reach your destination efficiently and safely, and Google Maps allows users to download maps offline so cellular coverage or data plan constraints are never an issue. Apple iPhone users can, of course, use Apple Maps should they wish.
Audio Features Deliver Great Sound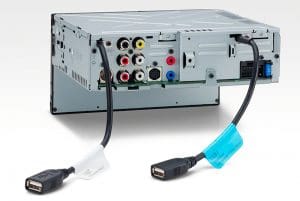 The AX7000 will play MP3, WMA and AAC audio files from a USB memory stick in one USB port while you charge your phone with up to 1.5 amps of current from the other USB connection. To be specific, USB1 supports more file formats than USB2 but is also the connection dedicated to CarPlay and Android Auto. USB1 will also play WAV and AAC audio files, along with MPEG-4, WMV, MKV and Xvid video files in resolutions up to 1280 by 720 and 30 frames per second.
Sony has included its 10-band graphic equalizer to help ensure that your music sounds great. The Dynamic Soundstage Organizer (DSO) feature includes preset signal delay and level settings that help to create a realistic soundstage across the dash of your vehicle.
The radio includes front, rear and subwoofer RCA preamp outputs rated to produce 5V of signal. While the extra voltage won't make your system louder, it allows your installer to turn down the sensitivity control on your amplifiers to reduce background hiss. Equalizer and subwoofer control adjustments are one touch away in the quick access menu from any screen.
High Power Multimedia Receiver for Unique Applications
The introduction of the Sony XAV-AX7000 provides a plethora of new installation options. This would be perfect for a Polaris Slingshot, Can-Am Maverick or Yamaha YXZ. If you want a unique infotainment solution for a motorcycle like any 2014 or newer Harley Davidson, this could be a great choice. In all instances, the extra power from the High Power amplifier is a welcome addition and since it's from Sony, you know you can trust the radio for years of reliable performance. Visit your local specialist mobile enhancement retailer today and ask for a demonstration.
This article is written and produced by the team at www.BestCarAudio.com. Reproduction or use of any kind is prohibited without the express written permission of 1sixty8 media.