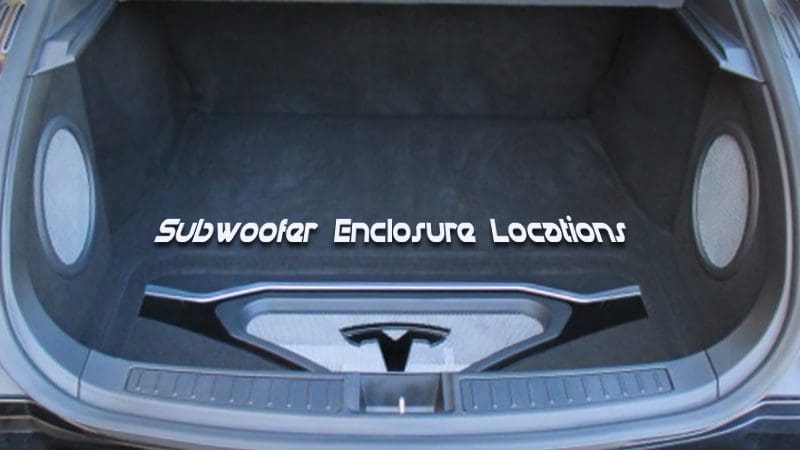 When it comes to bang-for-the-buck upgrades to any audio system, none can beat the dramatic difference of adding a subwoofer. Factory audio systems are getting pretty good at producing a soundstage in front of the listener, and they are EQed well enough not to be painful to enjoy – but one thing they all have in common is anemic, wimpy, thin and muddy bass response. Adding a quality subwoofer system can fix that.
What are optimal subwoofer system enclosure locations? If you think of the stereotypical car audio system, the subwoofer enclosure was usually something that took up most of the trunk or hatch area of the vehicle. You'd pop the trunk, and there would be just enough room for a knapsack or maybe a duffle bag. Did these systems sound great? Absolutely! Did they leave room for golf clubs, luggage or a keg of beer? Not a chance!
Subwoofers for Compact Enclosures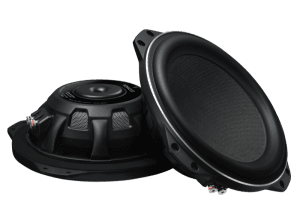 Looking through recent photos of custom car audio installations will reveal that subwoofer enclosures no longer take up space they once did. Why is this? Companies that design and manufacture subwoofers are conscious of the need to provide amazing performance without taking up a lot of space. There are now dozens of subwoofers designed specifically to fit into very shallow locations – like behind or under the seat of a pickup truck. These same subwoofers are also designed to produce deep bass from minimal enclosure volume requirements.
When a company designs a speaker, they have to balance three basic performance criteria – low-frequency extension, efficiency and enclosure volume requirements. In general terms, you get to pick two, and the third will suffer. For a small enclosure driver, it's often efficiency that takes a small hit. Regaining some of this reduction in output is credited to careful and thoughtful computer modeling and the use of stronger magnets and tighter tolerances withing the motor assembly of the subwoofer. Efficiency isn't as important as it used to be – we have many high-power amplifiers that don't cost an arm and a leg.
Conventional Enclosure Locations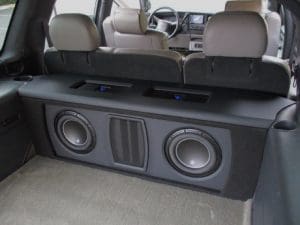 If you drive a hatchback or SUV, a subwoofer sitting behind the rear seat is still very common. This location works quite well because the output of the subwoofer system is in the same listening environment as it would be in a sedan. Your installer may choose to face the subwoofer in almost any direction – rearward, forward, up or down. Firing the subwoofers down into the floor can act as a bit of a filter for high-frequency energy, so your midbass speakers have to be up to the challenge.
If you drive a sedan, your subwoofer system is probably at the back of the trunk against the rear seats – much like in hatchbacks or SUVs. Again, the direction in which the speaker points varies based on the system design and cosmetic layout. Firing the subwoofers forward provides room to mount amplifiers and processors on the rear of the enclosure.
Another popular application for sedans is to fire the subwoofers through the rear deck or ski pass-through between the seats. These techniques dramatically improve the midbass response from the subwoofer and ease the requirement for large midbass drivers in the front of the vehicle.
A Little Custom, A Little Fun
Working with unique locations can offer a dramatic increase in the available storage area in the vehicle. There are two classic locations for a custom subwoofer enclosure: in the spare tire well or the corner of the trunk or storage area.

The spare tire well of many vehicles can offer an amazing amount of space for subwoofers. In many cases, a skilled installer can include your amplifiers and processors in that same space. Some thoughtful design and careful planning can leave you with your entire trunk available for cargo. You do need a plan for not having your spare tire with you – but the local auto service is always a phone call away.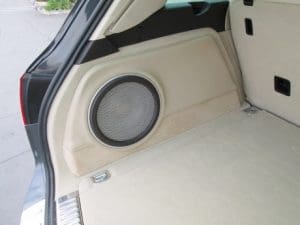 Building an enclosure in the corner of your trunk can offer excellent performance without a dramatic effect on available cargo space. Installers love to get creative with these enclosure designs. Classically, these enclosures have been molded to the vehicle with layers of fiberglass. Layered fiberglass construction offers excellent use of space, sometimes allowing for a larger subwoofer to be used with the same low-frequency performance, or even for a vented enclosure design. The drawback to fiberglass can be the time it takes for construction, and the smell. Fiberglass resin has a strong odor. It won't last long, but that aspect is worth keeping in mind.
Another construction technique that is becoming more and more popular is stack-fab. The stack-fab process uses multiple layers of wood. Each is cut to fit the contour of the vehicle, then glued one on top of another until your installer has built up to the top of the desired space. Stack-fab construction can be quite efficient in terms of time. The enclosure is ready to go right away. There is no waiting for layers of fiberglass and resin to dry. Stack-fab isn't as efficient on internal air space, but produces a very rigid and well-damped result.
Unique Applications and Solutions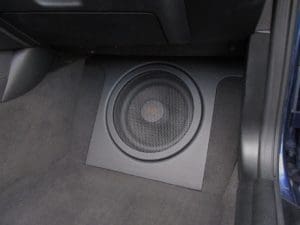 What if your vehicle is a little more challenging than most? Say you have a small two-seater like a Miata or an NSX, but want great sound? There is no room behind the seat for anything. What's an auto sound enthusiast to do? The passenger side footwell can be a great location for a subwoofer. A skilled installer can get a good-quality 8- or 10-inch subwoofer in there while leaving more than enough room for the passenger to sit comfortably in the vehicle.
Wherever you and your installer decide to place your subwoofer enclosure, the addition of good, solid low-frequency musical information will dramatically improve the overall performance of your mobile audio system. Search the Internet and join one of the many car audio groups on Facebook to gather ideas. Once you have a few thoughts, talk with the product specialist and installer at your local mobile electronics specialist retailer. No doubt, the result will be amazing!
This article is written and produced by the team at www.BestCarAudio.com. Reproduction or use of any kind is prohibited without the express written permission of 1sixty8 media.