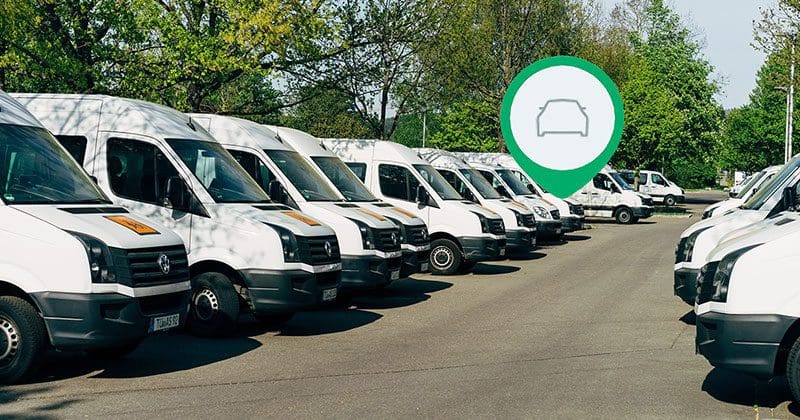 Whether you are a small auto parts store with two delivery vehicles or run a local courier or moving company with dozens of trucks, Drone is the perfect fleet management tool. Drone uses high-performance telematics technology to monitor the location and behavior of the vehicle it's installed in. DroneMobile – the powerful web and smartphone interface – makes managing the information collected by Drone efficient, so you can optimize the operation of your company vehicles and increase safety.
Drone Fleet Management Packages
Depending on the specific needs of your company, Drone offers three tracking solutions for business owners. The Premium package logs individual vehicle trips, monitors for speed violations and includes four geofence and 10 point-of-interest alert options. You can look up a vehicle location in seconds using the DroneMobile app on your smartphone or the web interface.
Stepping up to the Premium Plus plan adds turn-by-turn and breadcrumb trail logging that updates every two minutes. Geofences and point-of-interest locations are unlimited on the Premium Plus and higher packages.
Finally, the Ultimate package increases breadcrumb trail logging to every 30 seconds and adds location-based alerts. All three options include Drone's standard vehicle control features like locking and unlocking, as well as battery voltage and vehicle temperature monitoring.
The packages include maintenance reminders, and vehicle diagnostic trouble code information is also logged to help ensure that the fleet is operating reliably and efficiently.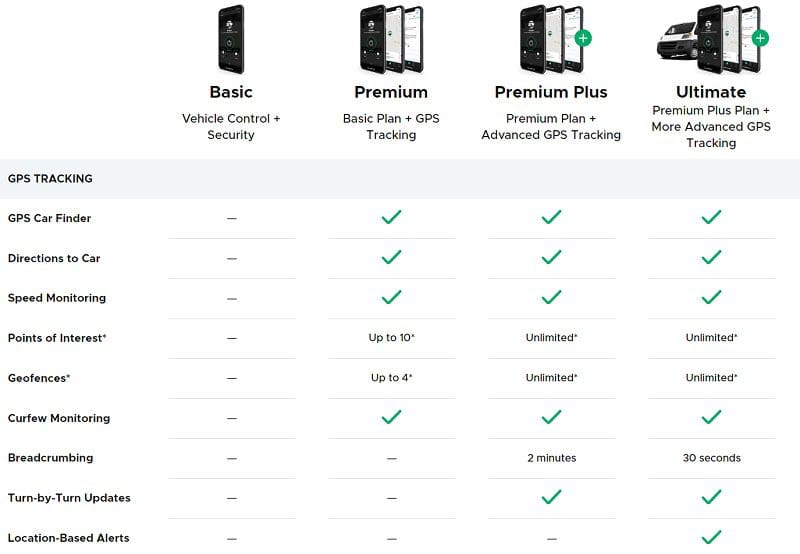 How Fleet Tracking Saves Companies Money
As a business owner, understanding how your equipment is being used is paramount to your profitability. Ensuring that delivery routes are being followed can save money in reduced fuel expenses. Information about arrival time to each destination can be used to optimize itineraries to avoid traffic congestion or construction. Curfew alerts ensure that your vehicle fleet is being used for business purposes only.
Using the Trips feature (available on the DroneMobile app or at accounts.dronemobile.com on any web browser), managers can review up to six months of data for each vehicle and look for driving behavior issues like speeding, unnecessary stops and unscheduled detours.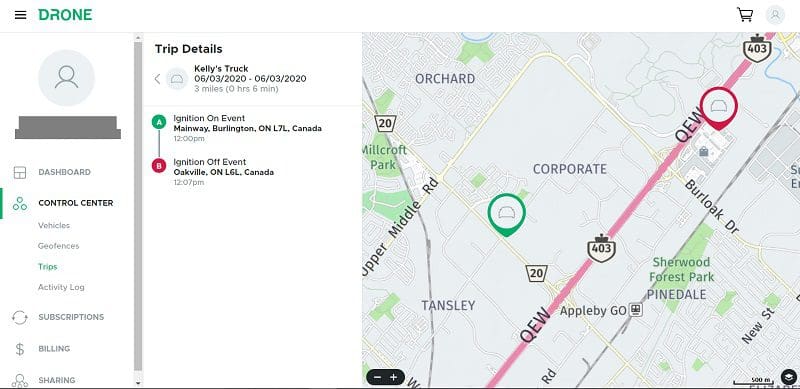 The Activity Log function at accounts.dronemobile.com includes options to sort information by vehicle, date range and activity, enabling you to analyze operational status with impressive detail. Data from the Activity Log can be exported into a spreadsheet-compatible .CSV format with a single button-click to help create presentations and reports.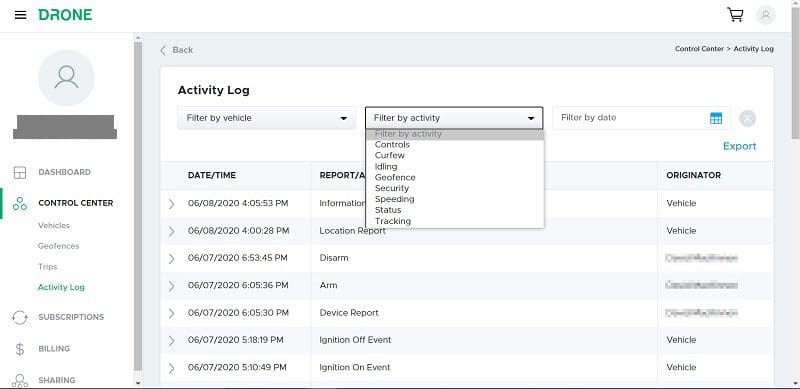 Additional Fleet Tracking Benefits
It's been proven repeatedly that company drivers who know a tracking system has been installed on the company vehicle drive more safely and efficiently. Safer driving reduces fuel and vehicle maintenance expenses, and can also reduce insurance costs from reduced claims. Speaking of insurance, it would be worth asking your insurance company if they offer a discount for vehicles that have tracking systems.
Drone hardware can be upgraded with security features to add another level of protection to your fleet. The Firstech DAS-II sensor monitors the vehicle for impacts, glass breakage, towing and motion. Likewise, sensors can be added to tool storage compartments or cargo loading doors. These alerts are not only logged in the activity report, but notifications are sent directly to the driver's smartphone so he or she can contact law enforcement if the vehicle is being tampered with.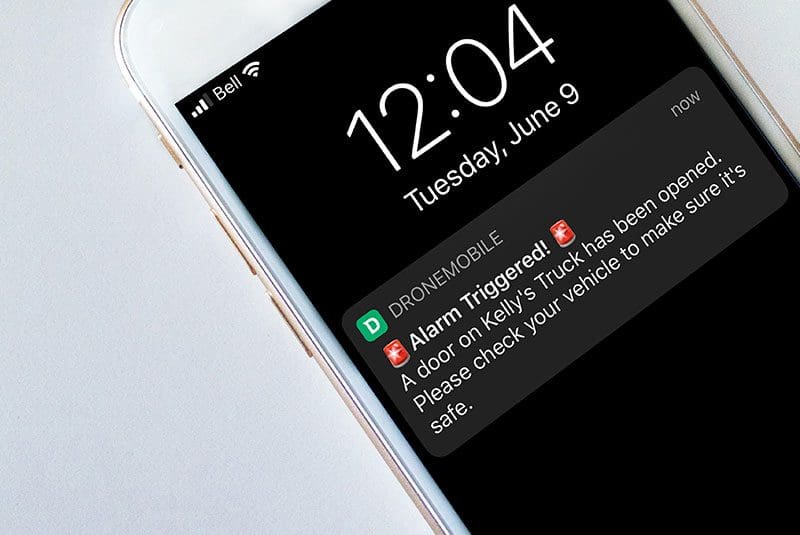 Accurate Data Makes Asset Management Easier
As a company owner with a fleet of vehicles, managing their expense can be a daunting task. From fuel and regular maintenance to insurance claims and damage repairs – your overhead can be thousands of dollars a year. Knowing where and how your vehicles are used is the first step to implementing policies that ensure their efficiency and safety. Drone can provide that information.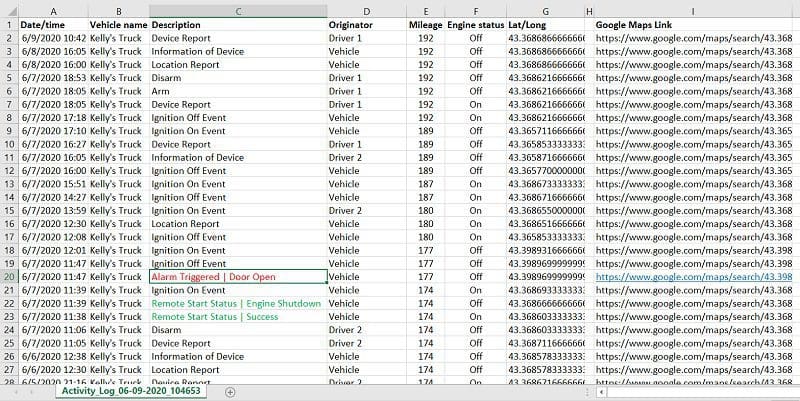 Contact your local Firstech retailer today to find out how you can equip your fleet with Drone Fleet Management solutions. You can find a dealer here. To stay up-to-date with the latest from Drone, be sure to follow them on Facebook, Instagram, and Twitter.
This article is written and produced by the team at www.BestCarAudio.com. Reproduction or use of any kind is prohibited without the express written permission of 1sixty8 media.