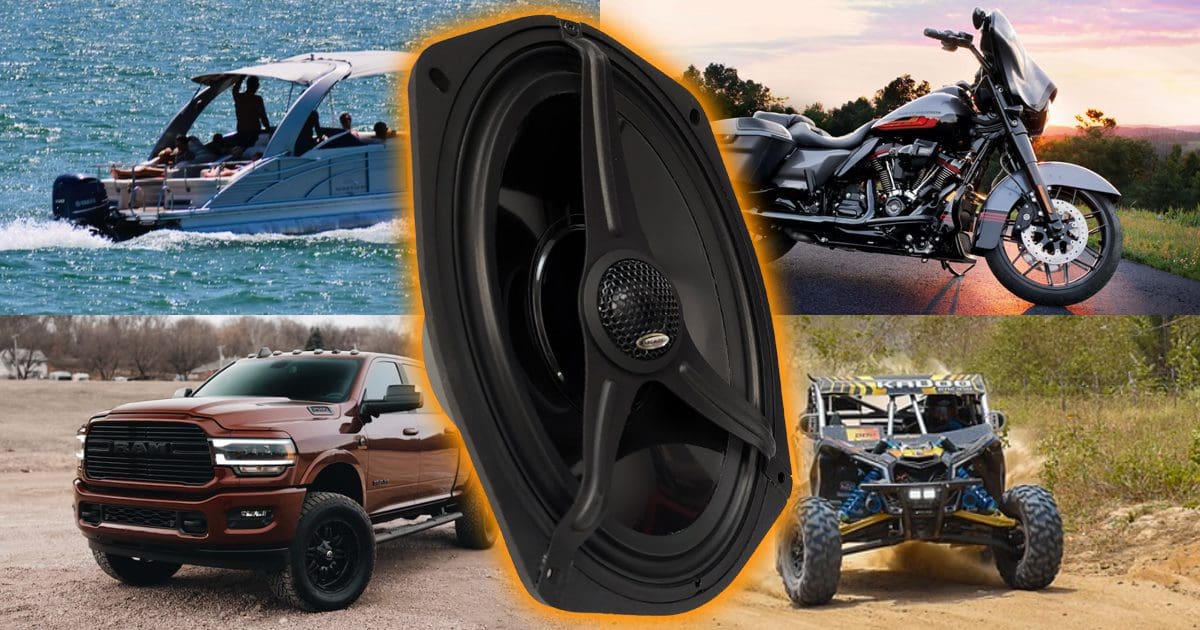 Picking an efficient speaker system that sounds good and can handle lots of power is no easy feat. The mobile audio experts at ARC Audio in Modesto, California, created the new CX69 6×9-inch speaker to fill this void. Whether you want great sound from the saddlebags of your Harley-Davidson, a door speaker that can keep up with a crazy subwoofer system or a solution for your side-by-side or boat, the CX69 does it all. Let's look at what makes these speakers a great choice when you want your music loud and clear!
ARC Audio CX69 Features and Design Elements
ARC Audio's in-house design team designed the CX69 speakers around a heavy-gauge stamped-steel frame. The frame has four curved spokes with rolled edges for added rigidity. Large vents at the base of the basket allow hot air to escape from the voice coil and prevent pressurization at high drive levels. At the bottom of the frame is a powerful motor assembly that features a high-quality Y35A-grade ferrite magnet. Unlike neodymium, ferrite magnets maintain their magnetic field strength better in high-heat conditions. Furthermore, their size acts as a heatsink for the voice coil to help keep it cool. The result is louder playback with better power handling.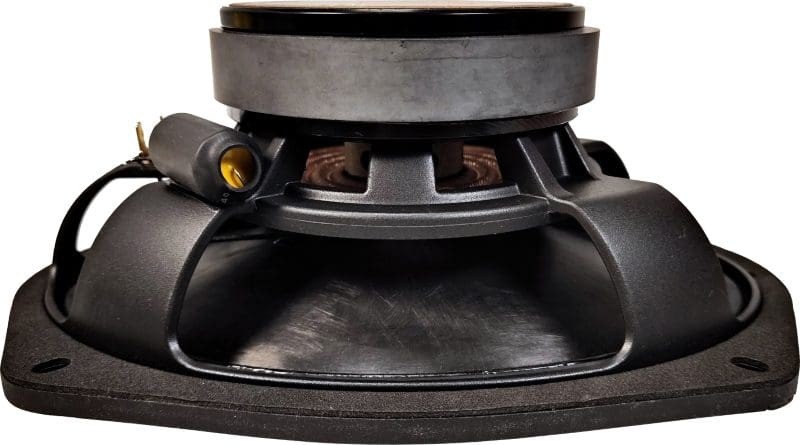 The woofer cone is a carbon-doped polypropylene design that offers an outstanding balance of rigidity, mass and damping to prevent unwanted resonances and distortion. The carbon also improves thermal stability, so the cone doesn't deform or flex after being driven for hours at high power levels when exposed to direct sunlight or operated in high-heat areas. The outer edge of the cone is attached to the mounting flange using an inverted rubber surround. The inverted design provides more clearance around the edges of the driver, keeping moving parts away from grilles and mounting hardware.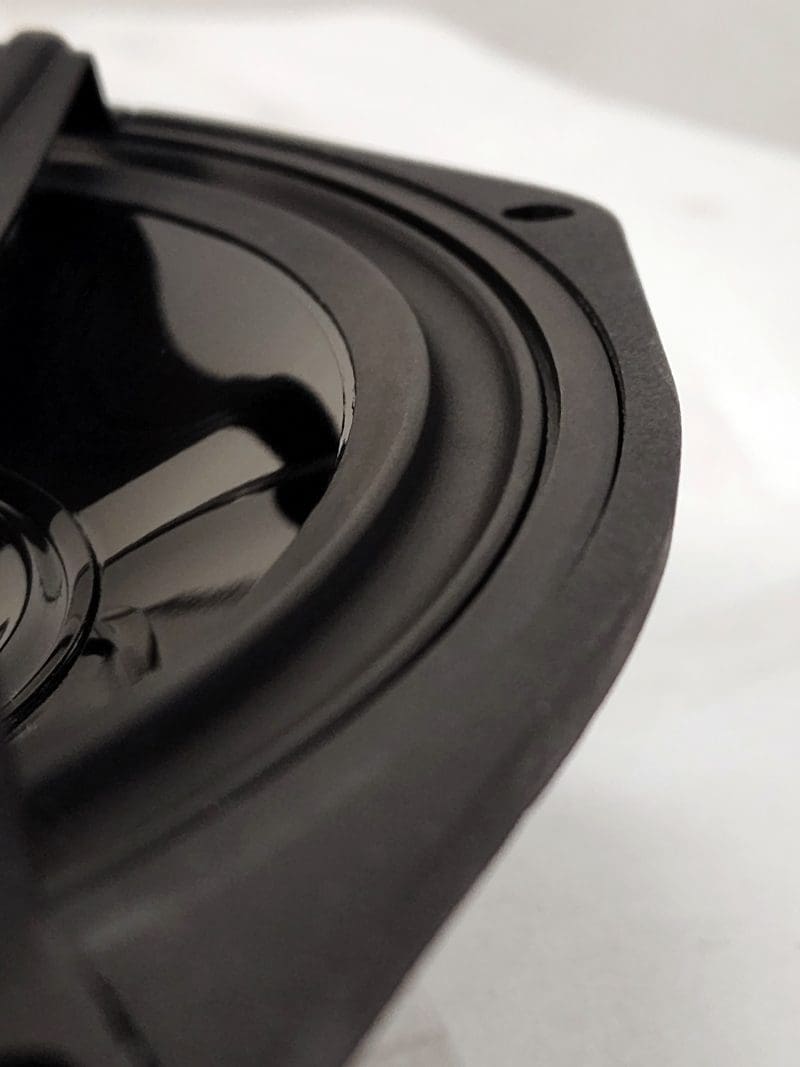 If you look closely, you'll notice that the ARC Audio CX69 uses a large dust cap in the center of the driver rather than a post for the tweeter. This design dramatically increases the cone area to improve the speaker's efficiency. The added mass of the dust cap also enhances midbass performance compared with the typical motorcycle audio speaker.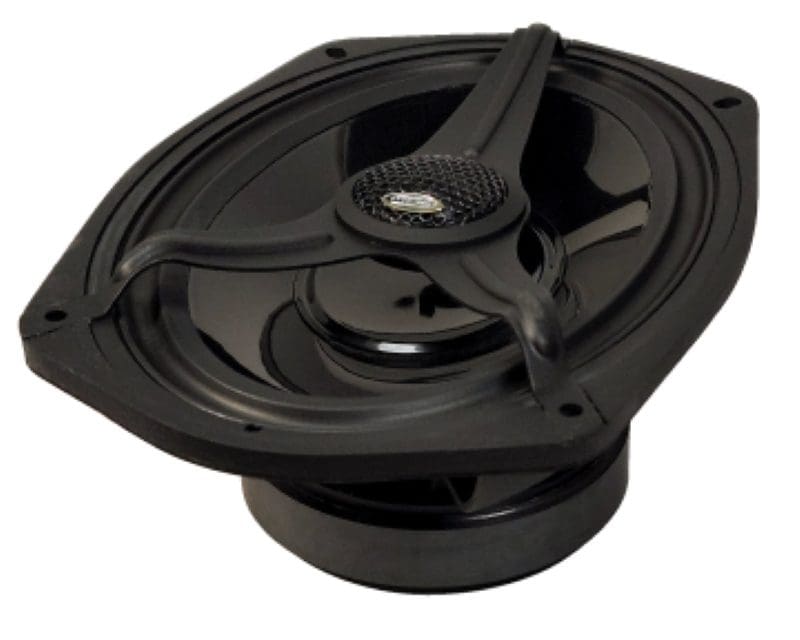 In terms of power handling, the ARC Audio CX69 features a monster 1.45-inch glass fiber and Kapton voice coil former and an oxygen-free copper voice coil winding. Compared with drivers using a 1-inch voice coil, the voice coil assembly in the CX69 has 45% more area from which heat can dissipate. This directly translates into improved power handling and reduced power compression – so your music will sound great at high volume levels for longer than competing products.
The woofer features a progressive-roll Nomex spider that prevents the cone assembly from bottoming out at extreme power levels. The spider, voice coil former and cone are stagger-step bonded together using an adhesive that is rated for 446 degrees Fahrenheit (230 degrees Celsius). This temperature is much higher than that of typical adhesives to ensure that the speaker functions reliably.
ARC Audio tooled a rigid stamped steel frame to suspend the 1-inch Norseal PVC-damped PEI tweeter above the woofer cone. The tweeter features a 25 mm voice coil, enabling it to function just as reliably as the woofer assembly. Like the bond between the woofer's voice coil former, spider and the cone, the tweeter uses high-temperature, step-cured adhesives so that the components remain solid when driven hard for long periods. A high-quality metallized polypropylene capacitor is used for filtering to ensure that the tweeter delivers smooth and detailed high-frequency sound.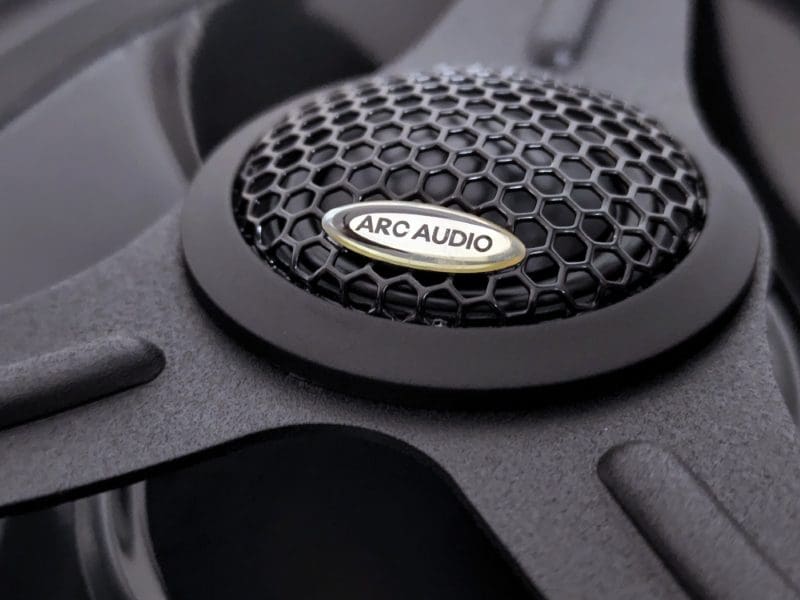 Speaker Specifications
By way of specifications, ARC Audio rates the CX69 as having an efficiency of 95 dB SPL, making it several times louder than the typical car audio speaker. Power handling is rated conservatively at 125 watts continuous and 300 watts peak, making this driver a perfect match for the Moto 720 amplifier or any of the X2 series. The required mounting depth is 3.25 inches.
ARC Audio knows speakers designed for outdoor applications must withstand dust, rain and debris. The woofer cone on the CX69 has been treated with a UV-resistant coating to ensure that it won't crack, fade or dry out like other designs. With the tweeter suspended above the woofer, there's no way for water to get into the speaker, making it virtually waterproof.
Upgrade Your Motorcycle Audio System with ARC Audio Moto Amplifiers and Speakers
ARC Audio put a lot of thought into the design of the CX69 and its little brother, the CX6 speaker. They wanted to give consumers a product that would sound great and stand the test of time. If you want an audio system upgrade for your Harley-Davidson or are looking for a high-performance 6×9 speaker solution for your automotive, marine or UTV application, drop by a local authorized ARC Audio retailer and ask about their Moto series of products. We think you'll be impressed by their performance and value. You can find an authorized retailer using the Dealer Locator on their website. Also, be sure to follow ARC Audio on Facebook, Instagram and YouTube to be the first to learn about their new solutions.
This article is written and produced by the team at www.BestCarAudio.com. Reproduction or use of any kind is prohibited without the express written permission of 1sixty8 media.