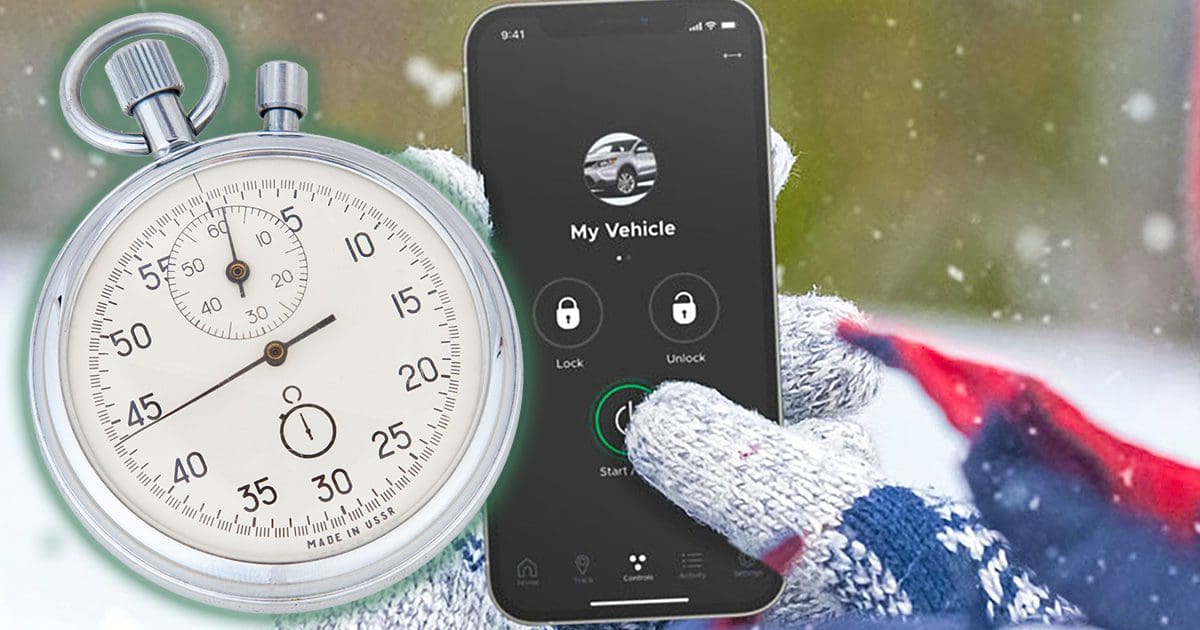 Being able to lock, unlock or remote start your car or truck using an app on your smartphone is handy. In listening to what owners of these solutions have been saying over the last few years, we've noticed a disturbing pattern: Most factory-installed remote systems are agonizingly slow. Nobody wants to wait around for their vehicle to unlock. So let's do some research and see how the DroneMobile system from Firstech stacks up in terms of responsiveness.
What Is a Telematics System?
In the context of cars and trucks, telematics is a way of remotely controlling basic vehicle functions using an app on your smartphone. In essence, these systems replicate the operation of a key fob to let you lock or unlock your vehicle, pop the trunk or hatch, or remote start the engine. In addition, many systems include a GPS receiver that can locate your vehicle on a map or configure location-based security alerts.
DroneMobile is the aftermarket telematics system offered by Firstech – the company behind Compustar remote car starter and security systems. DroneMobile can be integrated with a Compustar remote car starter to provide unlimited control range. So long as your vehicle is parked somewhere with cellular service and your smartphone has access to the internet, you can send commands quickly and easily.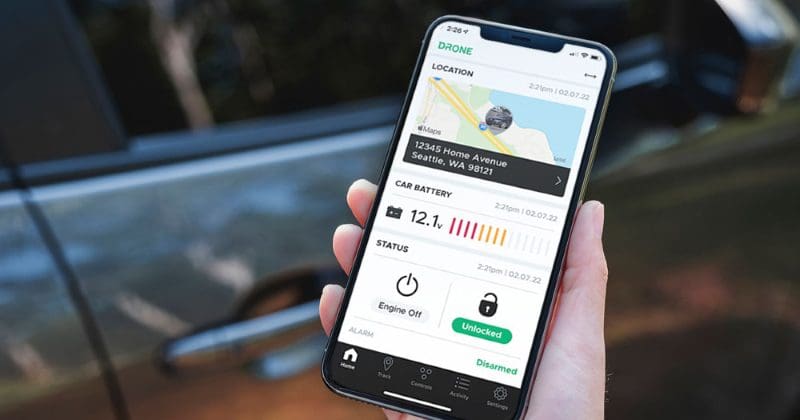 Smartphone Control Response Time
In addition to reliability and ease of use, impressive response time is one of the main reasons thousands of people have upgraded their cars and trucks with this system. Firstech moved its authentication services to AWS a few years ago to increase reliability and responsiveness. AWS is one of the world's premier cloud computing platforms and is used by companies like Netflix, Amazon, Capital One, Coca-Cola, Expedia and thousands more to host their online platforms.
If you're sitting at your desk at work and want to remote start your vehicle with your smartphone, it doesn't matter significantly if the process takes 2, 20 or 120 seconds. However, if you're walking up to your vehicle and want to use your phone to unlock it, response time matters. The last thing you want is to stand in front of your vehicle for 30, 40 or 60 seconds while data commands travel around the globe. You want the system to unlock as quickly as possible so you can be on your way.
We surveyed a group of friends to look at the response time of the telematics systems that came with their cars and trucks. The answers were surprising in all regards. Most response times were slower than we expected, with a surprisingly significant number of users completely giving up on these systems because they often didn't respond.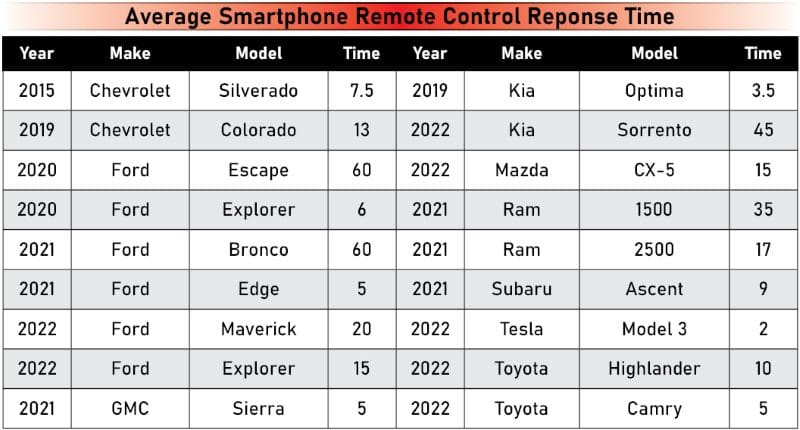 If we average all the responses, it took just under 18 seconds from when an icon on the smartphone was pressed to when the vehicle responded on most factory-installed telematics systems. In most cases, this was a simple lock or unlock command. However, the time it took for these vehicles to remote start and then report their status back to the app was often more than twice that.
DroneMobile – The King of Vehicle Remote Control Speed
Most of the employees at BestCarAudio.com have Compustar remote starters installed in their vehicles. We also have DroneMobile telematics systems integrated with those starters. We surveyed our team and many of our peers and found that the average response time for a lock or unlock request was about 2 seconds. In some cases, it was less. Sending a lock command over LTE was often faster than using a one-button RF remote. This isn't a failing of the remote – it waits a second before transmitting to see if you're going to press the button again.
If you have remote started your car or truck from inside your home, work, a restaurant or movie theater and are approaching the vehicle, using the DroneMobile system to unlock the doors in about 2 seconds is, frankly, the way these systems should work.
Upgrade Your Vehicle with DroneMobile
Many friends we talked with for this article expressed an interest in replacing the factory system with a solution like DroneMobile. The slow response time or complete failure of the system to function had led many of them to abandon using the factory-installed solutions. If you're shopping for a lightning-quick telematics system for your car or truck, drop by a local DroneMobile retailer today. You can learn more about this impressive smartphone control solution by visiting the DroneMobile website, their Facebook page, Instagram feed or YouTube channel.
This article is written and produced by the team at www.BestCarAudio.com. Reproduction or use of any kind is prohibited without the express written permission of 1sixty8 media.