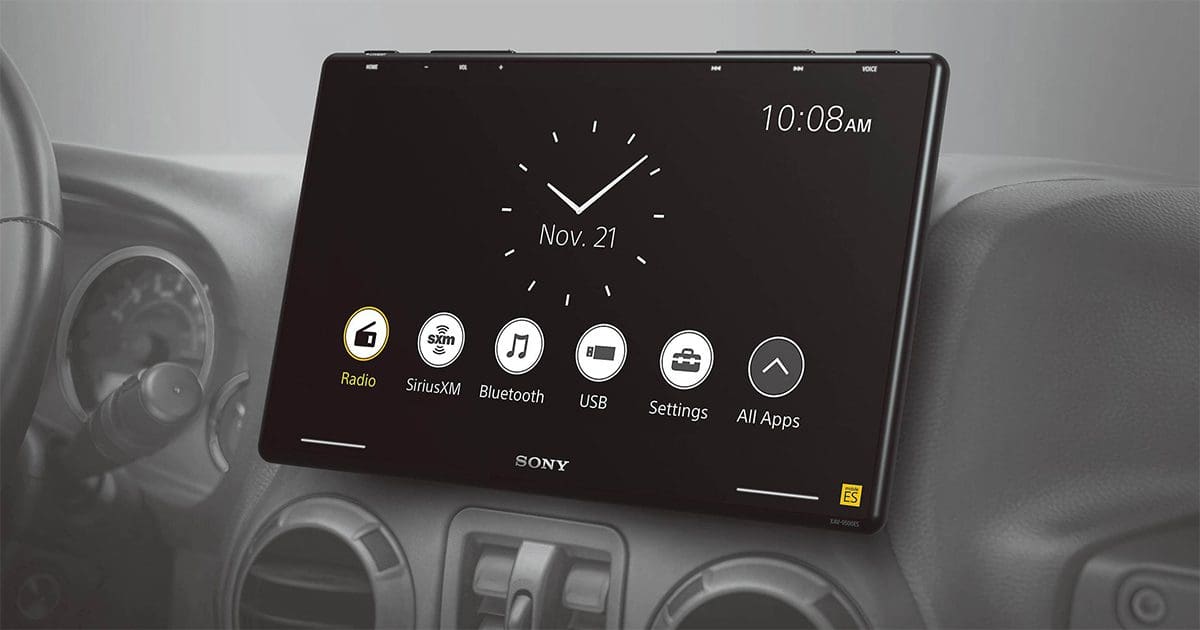 Those seeking the ultimate performance from a car audio system know that the result will only be as good as what you start with. Decades ago, many companies offered high-end CD players. These days, your options are limited when it comes to genuinely high-performance car audio source units. If support for hi-res, an impressive 10.1-inch display, wireless Android Auto and Apple CarPlay, and iDatalink Maestro compatibility are on your list, then you'll want to take a serious look at Sony's flagship Mobile ES receiver – the XAV-9500ES.
Design Features of the Sony XAV-9500ES
The first thing you'll notice is that the XAV-9500ES is a floating-face radio with a 10.1-inch capacitive touch anti-glare interface display with a 1280 by 720-pixel resolution. The display depth, angle, height and left-to-right alignment are adjustable, so your installer can make the radio look great in your dash. The radio's main body is standard single-DIN so that it will fit in a variety of vehicles – even an '89 Honda Civic — without any modifications. The display is impressively bright at 425 candela per square meter and offers a contrast ratio of 1000:1. Sony's bezel-less design is used on this radio, so the display assembly looks smooth and clean – like it belongs in a car and not a spaceship.
The radio includes a 20-watt-per-channel amp to drive the front and rear speakers. The preamp outputs are rated to produce at least 5 volts of output and include adjustable frequency and slope high-pass crossovers on the front and rear channels and the subwoofer. In addition, Sony's gone above and beyond by including an eight-band parametric EQ for each output channel and a master 14-band graphic equalizer to shape the system's response to your listening preferences. There are also signal delay settings for each of the six outputs that your installer can use to ensure that the sound from each speaker arrives at the listening position simultaneously. When the system is configured correctly and used with properly installed speakers, you'll experience smooth tonal balance and a realistic soundstage across the vehicle's width – just as if you were at the console of a world-class recording studio.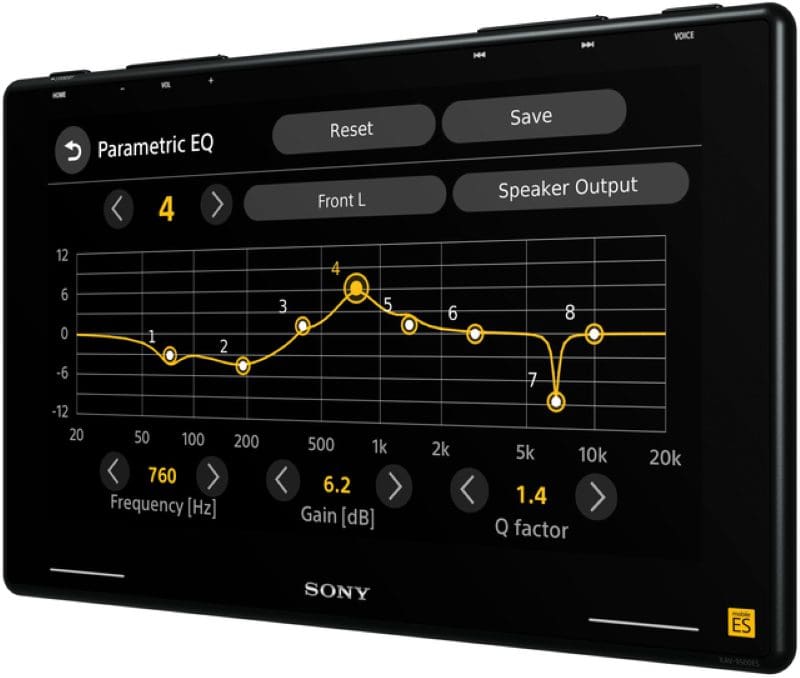 Sony didn't skimp on quality components inside the radio either. At the heart of the system is an Analog Devices 32-bit, 192-kHz compatible digital signal processor to handle the system calibration. The DSP feeds a state-of-the-art ESS Sable HiFi 32-bit high-performance digital-to-analog converter. Unlike most source units, the XAV-9500ES is Hi-Res Audio-certified and will output audio to 96 kHz instead of the usual 22 kHz of most radios. With the latest premium audio components, the XAV-9500ES offers performance that rivals that of many esoteric home audio source units costing in the five-digit range.
Source and Smartphone Integration Features
The XAV-9500ES includes wireless Apple CarPlay and both wired and wireless Android Auto. You can use either of these solutions with your smartphone's voice recognition and digital assistant features to make phone calls, listen to and dictate responses to text messages or choose from dozens of entertainment options. There are dedicated apps including Spotify, YouTube Music, iHeartRadio and Tidal for music, and several options for those who enjoy audiobooks. In addition, you can get detailed navigation directions to almost anywhere in North America using Google Maps and Waze on both platforms, along with Apple Maps when using CarPlay.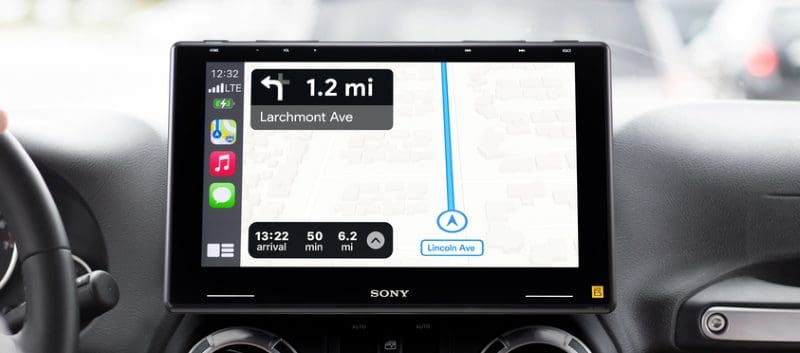 The USB-C port on the rear of the chassis provides up to 3 amps of current to charge a smartphone or tablet. You can also connect a USB memory stick to the USB-C port on the back of the radio or through the included USB-C extension cable to play MP3, WMA, AAC, ALAC, FLAC, WAV and DSD/DSF audio files. Bluetooth audio streaming with support for the LDAC codec for Hi-Res Audio playback from supported devices is also included. There is, of course, an AM/FM receiver with RDS information display. Your installer can upgrade the radio with a SiriusXM satellite radio tuner for non-stop entertainment from coast to coast.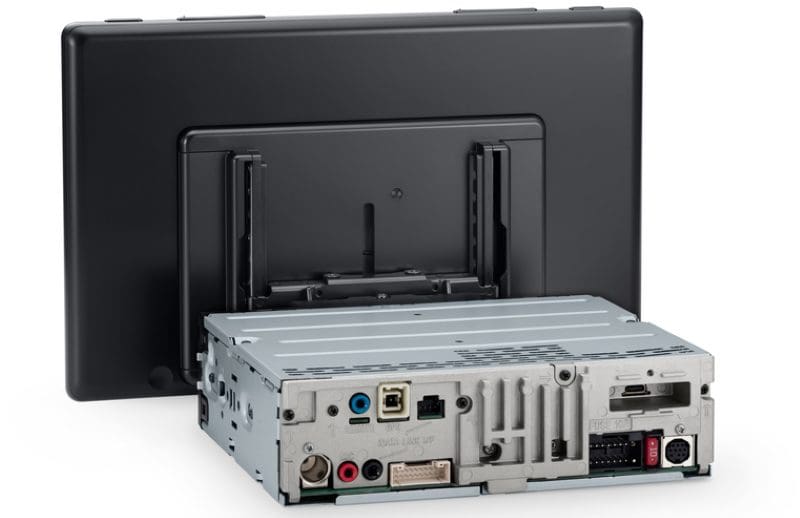 Speaking of upgrades, the XAV-9500ES is compatible with the iDatalink Maestro RR and RR2 vehicle integration interfaces. These modules allow the radio to communicate with the computers in your car or truck to display information on the screen or adjust the climate controls in some applications. Visit your local Sony retailer to learn more about what features the Maestro interfaces offer for your vehicle.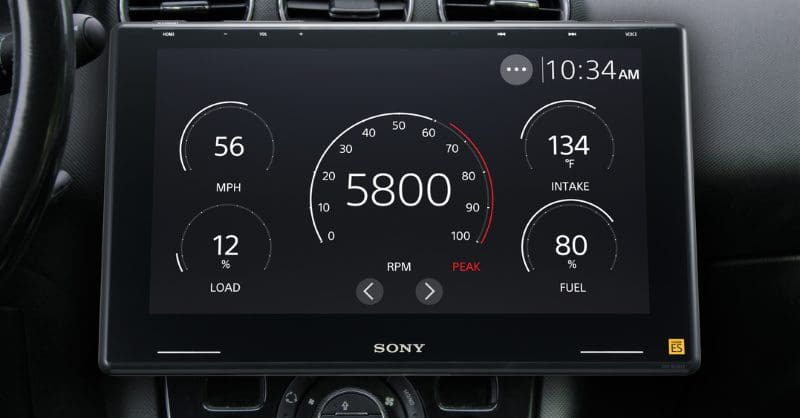 Upgrade Your Car Stereo with Sony Mobile ES
Many car audio brands are looking for ways to save money by reducing features and performance. However, Sony continues to deliver car audio solutions with exceptional sound quality and an extensive feature set. If the quality of your music matters, drop by a local authorized Sony Mobile ES retailer today and ask for a demonstration of the XAV-9500ES, along with their impressive speakers, amplifiers and subwoofers. You can learn more about Sony Mobile ES products by visiting their website or their Facebook page.
This article is written and produced by the team at www.BestCarAudio.com. Reproduction or use of any kind is prohibited without the express written permission of 1sixty8 media.