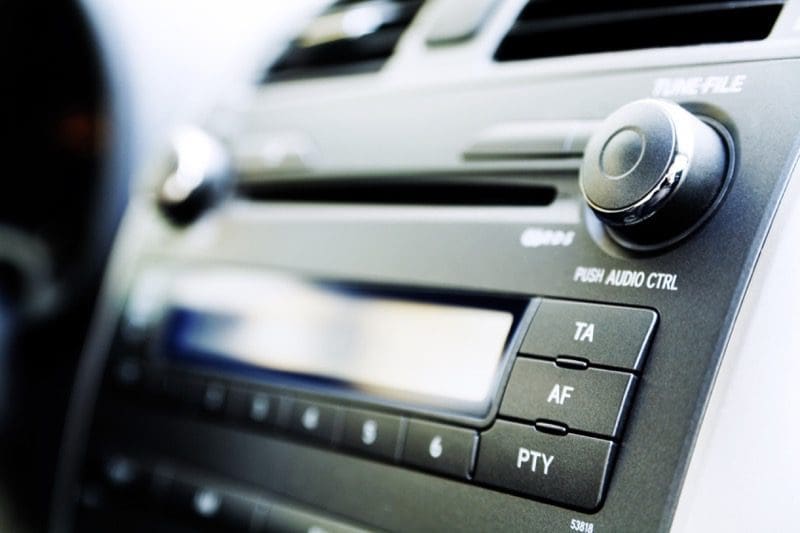 A message that mobile enhancement retailers strive to share is that we want you to come to us with your feature requests or ideas. If you want a remote starter or audio system upgrade, you know to come to us – but did you know we also can install heated seats, auto-dimming mirrors or auxiliary input jacks on factory audio systems? We can, and our prices are often much less than dealer options or upgraded trim packages on new vehicles. Let's look at a few options for auxiliary input additions.
Why Would You Want an Auxiliary Input?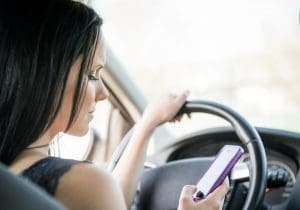 We all seem to have at least few hundred of our favorite songs stored on our cellphones or portable media players. We listen to them while we are out for a walk, grocery shopping or even at our desks at work, but we can't always listen in our cars or trucks. If your factory radio doesn't have Bluetooth or a USB port to which you can connect your phone, then there is no easy way to enjoy your music. In addition, in many states and provinces, it is illegal to wear headphones while driving. What is the solution? We can add an auxiliary input to your factory radio.
An auxiliary input interface allows you to connect the 1/8-inch headphone jack output of your smartphone or media player to your radio. Once it is connected, you can listen to your music through the factory radio and speakers.
Optical Connection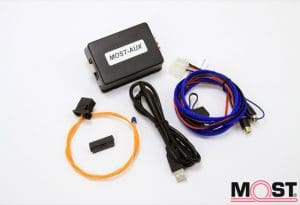 Many European vehicles, such as Porsche, Mercedes-Benz, Range Rover, Audi, BMW, Aston Martin, Jaguar and Bentley, use a digital fiber optic bus communication system called MOST for multimedia and audio transfer. MOST stands for Media Oriented Systems Transport. This fiber optic system handles audio signals between the radio, Bluetooth, and iPod modules and amplifiers. In many models of the vehicle brands listed above, we can add an in-line module that provides a stereo auxiliary input. No need to replace the expensive radio. Just connect to your smartphone's headphone jack and enjoy.
Wired Connections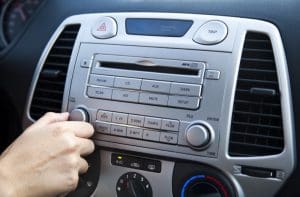 Several companies manufacture auxiliary input interfaces that mimic the presence of an optional satellite radio tuner module. The interface will have a stereo input connection for your music and will connect to your factory radio via the satellite radio tuner interface port. Just press the Sat button to activate the input.
Many older vehicles on the road had the option for a CD changer. We can provide an auxiliary input interface for many of these vehicles that allows you to connect your portable media player or cellphone to these radios. To select the aux input, just press the CD changer button.
RF Connection
For decades, one of the most popular methods of feeding and audio signal into a radio that didn't have a dedicated auxiliary input was to use an FM Modulator. These devices would take the audio signal from your media player or phone, and transmit that into your radio via the FM receiver. You would turn the modulator on, tune to a specific radio station (which is selectable so it doesn't interfere with a local station), and voila – you could hear your music. These are still available when a wired connection is simply not possible. The sound quality is limited by the FM receiver of your radio, but it's better than listening to your music via the speaker built into your phone.
Visit Your Local Car Audio Specialist Today
While there isn't an auxiliary input interface available for every make, model and trim level of vehicle, a lot are covered. Drop by your local car audio specialist retailer to see if one is available for your vehicle. You will likely want to have the shop install the interface for you – they know how to take apart the dash or remove the radio without damaging anything. And they know the best places to power the new interface. Boy, are they ever smart!
This article is written and produced by the team at www.BestCarAudio.com. Reproduction or use of any kind is prohibited without the express written permission of 1sixty8 media.