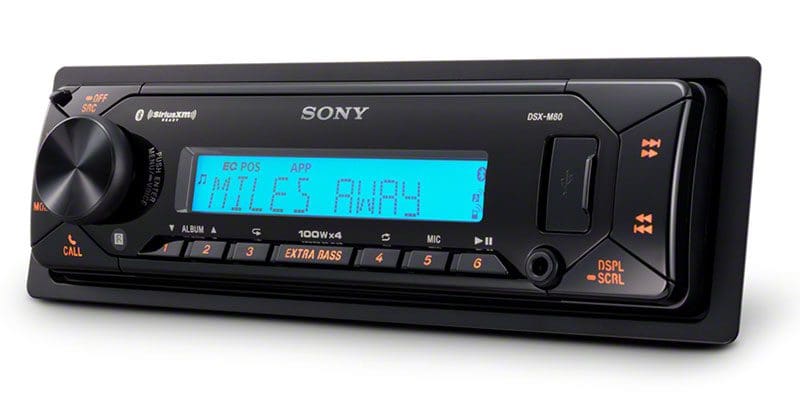 The introduction of the DSX-M80 Bluetooth receiver marks the newest version of Sony's marine-grade High Power head unit in its current product line. It replaces the MEX-M100BT, which debuted Sony's proprietary impressive High Power technology at 45-watts by four from its internal amplifier to a marine-grade radio. The fun doesn't stop there – dual USB ports, dual Bluetooth connectivity, UV-resistant materials used for the face and trim, anti-corrosive coatings on its electronics and a suite of signal processing features make this radio an excellent solution for boats as well as powersports applications.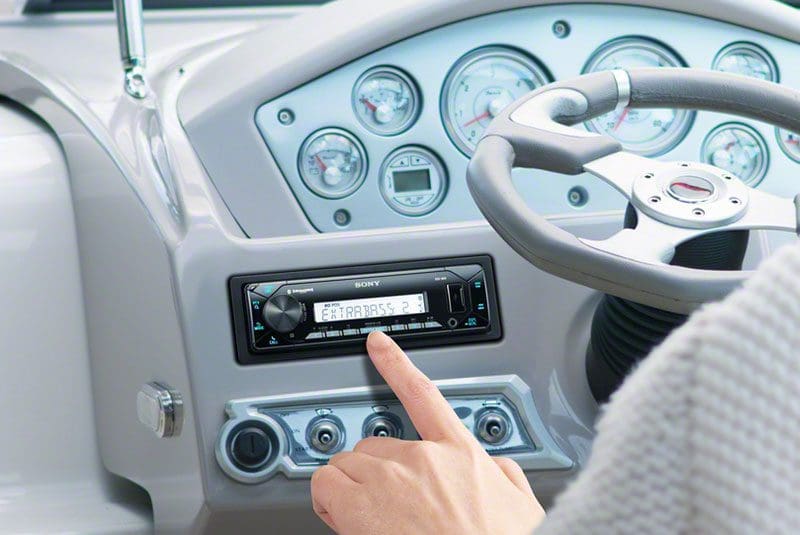 Sony High Power Source Unit Amplifier
Unlike typical car radios that use a single integrated circuit powered directly from the vehicle battery voltage, Sony has included a switching power supply and a four-channel Class D amp in the chassis of the DSX-M80. This amp is capable of producing at least 45 watts of power per channel into 4-ohm loads and is 2-ohm stable to bring even more power in that configuration. Sony also includes its Subwoofer Direct Mode, which lets you feed even more power to a single rear output connected to a subwoofer setup to bring your audio system to life without the need for an external amplifier.
Sony DSX-M80 Design and Interface
The display on the DSX-M80 features a high-contrast design with a white panel and black text that works well in bright sunlight. The 14-segment, 12-character display allows song titles and radio station information to be displayed accurately. The display and button backlighting colors can be set to any of more than 34,000 options, or you can use the Sound Sync mode to have the display change to the beat of your music. A key feature for marine applications is the inclusion of non-volatile memory that will maintain system settings, radio station presets and phone pairings when power is cut to the unit for storage or maintenance on the vehicle or watercraft.
Likewise, in keeping with the marine design, the radio's face is constructed using UV-resistant materials that can handle prolonged exposure to the sun without fading or cracking. Sony has coated the main circuit board with a moisture-resistant conformal coating to help prevent corrosion in high-humidity environments.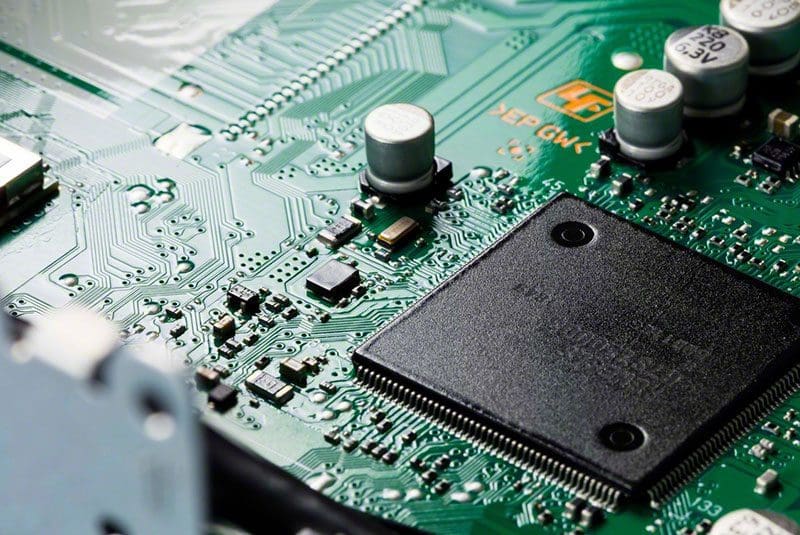 Marine Entertainment Source Options
The DSX-M80 includes dual USB ports so you can connect an Android smartphone or Apple iPod, iPhone or iPad to play music. Android connectivity includes Android Open Accessory (AOA) 2.0 support. The rear USB port supplies 1.5 amps of charging current, and port on the front face supplies 1 amp. You can play up to 10,000 audio files in MP3, WMA, WAV, AAC or FLAC formats at up to 48 kHz sampling rates from a single USB device.
As mentioned, you can pair two Bluetooth devices simultaneously to this radio. The first connection can serve as an entertainment source using Bluetooth A2DP and AVRCP connections, giving you access to communication, navigation and music playback features. Pair a second phone for hands-free call connectivity.

There is a front-panel 1/8-inch aux input, and the AM/FM tuner features RBDS station information display. The radio tuner channel spacing can be changed to work with European and other countries' standards. The DSX-M80 is compatible with SiriusXM satellite radio — just ask your retailer to add the optional SXV300 tuner module during the installation.
System Configuration and Tuning Features
Sony has included its EQ10 10-band equalizer along with the Extra Bass function so your system can be fine-tuned to deliver the frequency response you want. Adjustable high- and low-pass crossovers with adjustable slopes let your installer optimize the operating frequency range for each speaker in the system. ClearAudio+ and DSEE (Digital Sound Enhancement Engine) audio processing features help to recover audio information lost during the digital compression process or radio transmission to make your music sound better.
This radio is also compatible with the Sony | Music Center app. The app not only serves as a convenient music player, but it provides full remote control over the radio from your smart device. Your installer can even configure signal delay and level settings using the Advanced Car Audio Setting portion of the app to optimize the system for the given speaker locations in your boat or vehicle.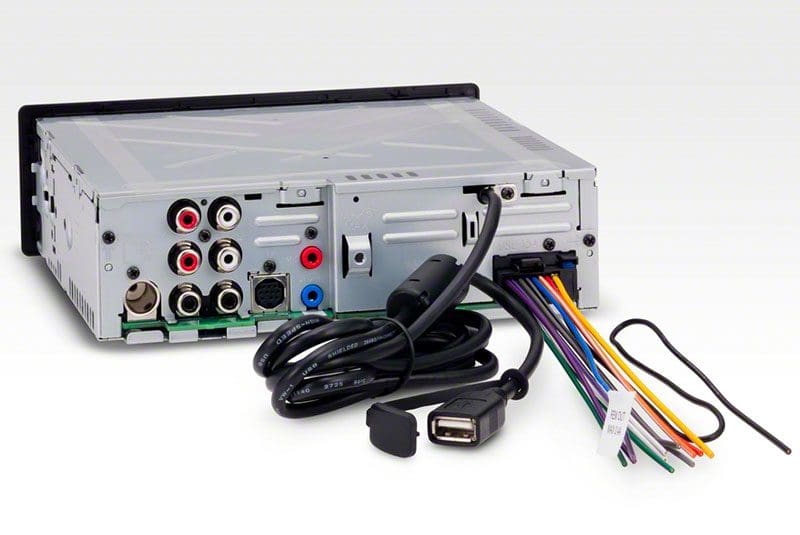 Sony DSX-M80 Connectivity Features
The Sony DSX-M80 includes the aforementioned four-channel High Power amplifier and three sets of 5-volt preamp outputs. Connections are provided for the included Bluetooth hands-free microphone as well as an input for an optional steering wheel or helm control input interface. A programmable steering wheel control input feature allows connection to older resistance-based controllers that may already be installed in the boat. Your retailer can help you determine if your existing system will be compatible with this feature.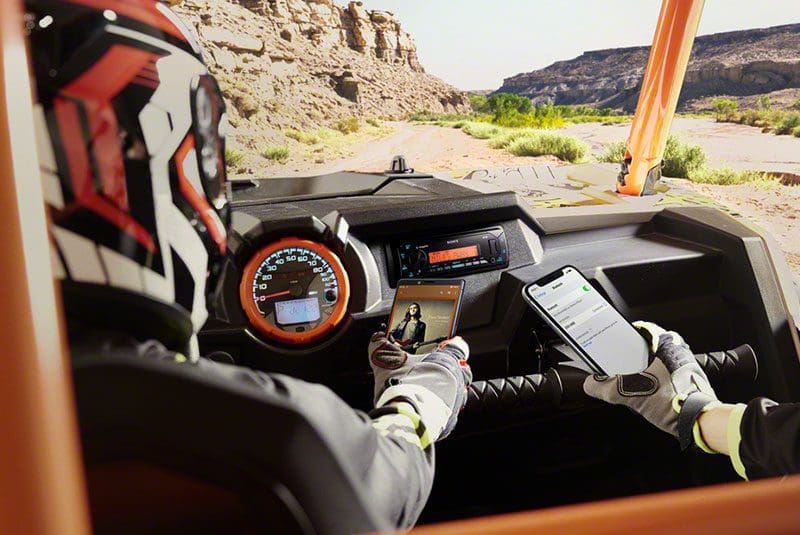 Upgrade Your Playtime with Sony
Whether you're looking for a source unit for your boat, golf cart or side-by-side, the Sony DSX-M80 is a great option. It has all the source features you could ever want, and the High Power amplifier ensures that you can blast your music loud and clear. For more information, visit the Sony car and marine website or visit their Facebook, Instagram or Twitter social media sites.
This article is written and produced by the team at www.BestCarAudio.com. Reproduction or use of any kind is prohibited without the express written permission of 1sixty8 media.