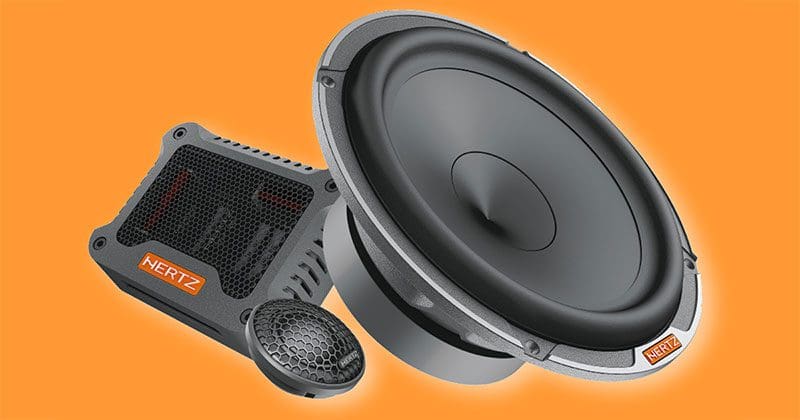 Hertz Mille Pro speakers are designed for car audio enthusiasts who demand world-class performance and impressive value. The Mille Pro series includes five component speaker systems, a pair of coaxial speakers, or drivers in a-la-carte pairs for an actively filtered system. Trickle-down technology from the esteemed Legend Series helps to ensure that music lovers can find a solution that fits their needs.
Hertz Mille Pro Speaker Systems
Starting with the flagship MPK 1650.3 Pro, this two-way component speaker set includes a pair of 6.5-inch MP 165P.3 woofers, two MP 28.3 1 3/8" tweeters and a set of MPCX 165.3 passive crossover networks. The woofers are based on a cast aluminum alloy basket and use a 1-inch polyamide voice coil former with a 0.55-inch tall winding. The woofers have a nominal impedance of 3 ohms to maximize the power production capabilities of the connected amplifier. Xmax is specified at 4.5 mm, and power handling is a healthy 125 watts continuous. The woofer cones are made from a pressed pulp paper with cotton fibers, and they feature an exponential-curve deep-V shape. The cone is attached to a rubber surround that Hertz calls "Boundary Free" in reference to the smooth transition between the area that attaches to the cone and the outer roll. The MP 28.3 tweeters have a 1.1-inch voice coil and use lightweight CCAW wiring to assist with amazing transient response. The Tetolon fiber domes work with tuned rear chambers to deliver an extremely low resonant frequency of 900 Hz. This low Fs value allows for low crossover points and improves the overall dispersion performance of the set. The passive crossover networks include tweeter level attenuation switches and two contour settings to compensate for different tweeter installation positions.
The MPK 165P.3 Pro set uses the same 6.5-inch MP 165P.3 woofers as the above system with a set of MP 25.3 1.14-inch tweeters. These smaller tweeters are more suitable for integration into factory pods in sail panel, A-pillar and door locations. The crossover point in the included MPCX 2P.3 crossovers is at 4 kHz instead of 3 kHz, as in the 1650.3 Pro set.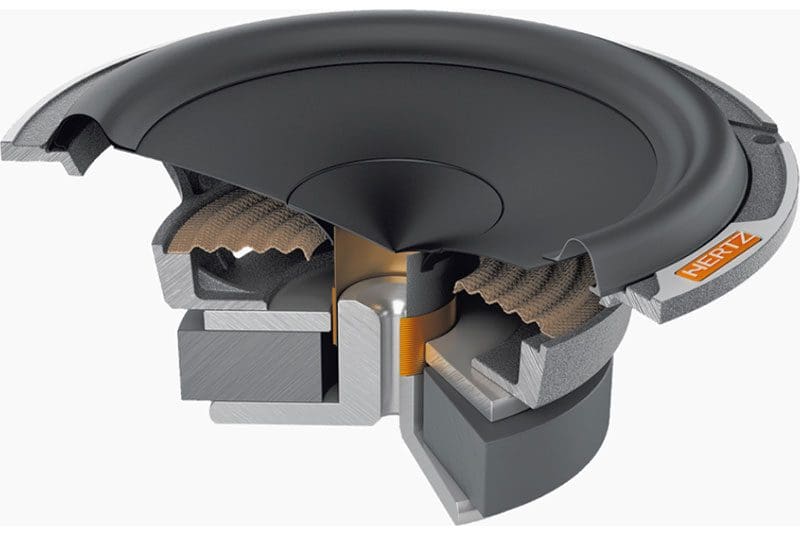 The MPK 165.3 Pro Set uses the MP 25.3 tweeters with a set of 6.5-inch MP 165.3 woofers. These woofers retain the cast aluminum basket, pressed cotton and pulp-paper cone, the Boundary Free surround and a 1-inch voice coil design. Power handling is somewhat more modest at 110 watts, and Xmax is plus or minus 4 mm. The MPCX 2.3 crossovers have a 0 or +2 dB tweeter adjustment and filter the drivers at 3.5 kHz.
For those who require a three-way speaker solution, the MPK 163.3 Pro system adds a pair of MP 70.3 3-inch midrange drivers to the MPK 165.3 set. The mids feature a cast basket, dual neodymium magnets, cotton and pressed-pulp cones, and the Boundary Free rubber surround design. With a resonant frequency of 110 Hz and Xmax spec of 1.5 mm, these mids play down to 450 Hz with the included MPCX 3.3 passive networks.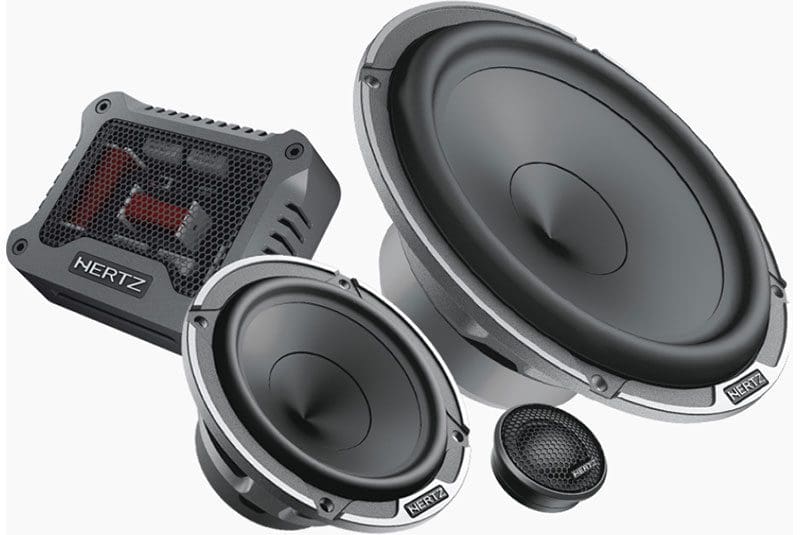 For those who need a 5.25-inch component set, Hertz offers the MPK 130.3 Pro system. The system uses the MP 25.3 tweeters with a pair of MP 130.3 woofers. The woofers have cast baskets, and the same cone and surround design as their big-brother 6.5-inch speakers. The system includes the same MPCX 2.3 crossovers as the MPK 165.3 set.
High-Performance Coaxial Speaker Sets
There are two coaxial speaker options in the Hertz Mille Pro Series. The MPX 165.3 Pro set is a pair of two-way 6.5-inch speakers that use a 1-inch tweeter mounted at the very base of the woofer cone. The woofer uses a 1.42-inch voice coil former so that there is enough room for the tweeter to fit inside. The same paper-cotton cone and surround woofers design complement soft Tetolon diaphragms in the tweeters. Hertz added an acoustic lens on top of the tweeter to help improve off-axis performance.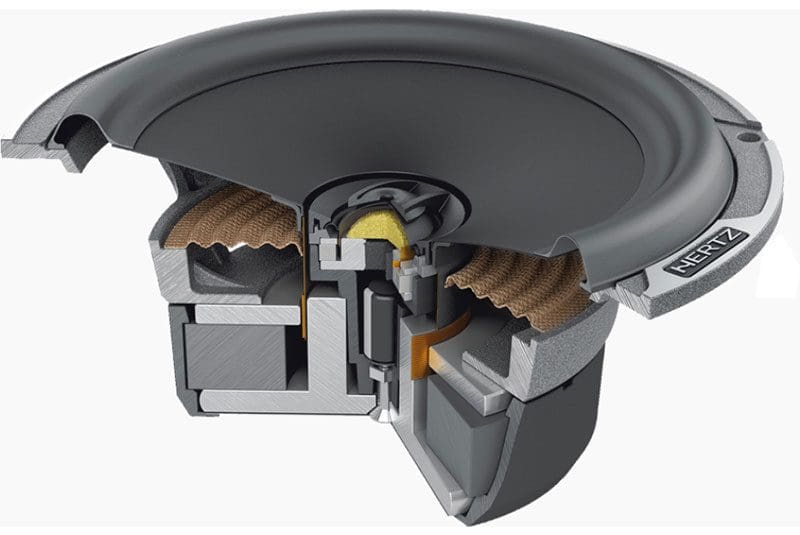 The MPX 690.3 Pro is a set of 6×9-inch three-way speakers. The large oval woofer is complemented by a 1.4-inch soft-dome tweeter and a 1.14-inch super-tweeter. Both use the soft-dome Tetolon design with crossover points of 4 and 10 kHz, respectively, to deliver even dispersion both on- and off-axis. Power handling is rated at 130 watts, and the woofer has an Xmax spec of plus or minus 4 mm.
Premium Speaker Upgrades for Every Application
The Hertz Mille Pro series fits perfectly between the Mille Legend and the Energy speakers. The offerings combine great power handling, flexible installation options and the reputation for performance that has made Hertz one of the best-known speaker manufacturers in the car audio industry. For more information about these speakers, visit the Hertz website and be sure to follow them on Facebook, Twitter, Instagram and YouTube.
This article is written and produced by the team at www.BestCarAudio.com. Reproduction or use of any kind is prohibited without the express written permission of 1sixty8 media.