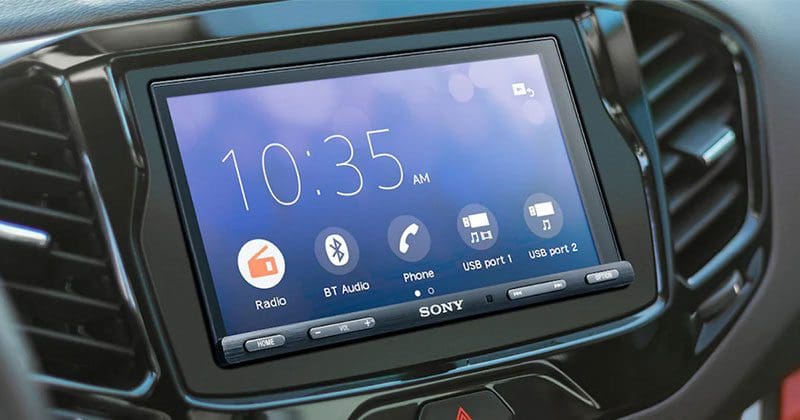 Sony's new XAV-AX5500 media receiver not only covers all the ground, but it also raises the bar in terms of smartphone connectivity. Equipped with WebLink 2.0, you can see and control your compatible smartphone right from the 6.95-inch touchscreen on the radio. Of course, Apple CarPlay, Android Auto, high-quality Bluetooth audio streaming and all the digital media support you'd ever want are also included. Let's check it out!
Same Great Look with New Features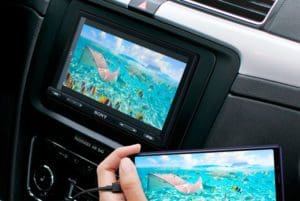 The Sony XAV-AX5500 is an evolution of Sony's famous XAV-AX5000 media receiver. The upgrades include WebLink 2.0 smartphone display technology that lets you cast most apps to your radio to see and hear all the action. Commands from the radio screen are fed back to the phone for easy and intuitive control. Waze and YouTube are two of the most popular applications for WebLink, and both offer an app icon on the WebLink home screen.
Users can upload home screen background images to the the XAV-AX5500 to express their style by personalizing the installation to their vehicle.
The XAV-AX5500 includes 5-volt preamp outputs instead of the 2 volts of signal available from the AX5000. This extra voltage will allow your installer to turn down the sensitivity controls on any external amplifiers to reduce background noise.
Apple CarPlay and Android Auto Smartphone Connectivity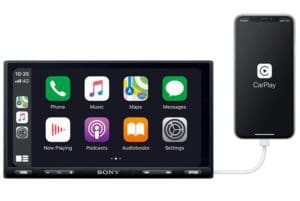 The AX5500 continues to offer Apple CarPlay and Android Auto smartphone connectivity with its plug-and-play USB port. Both of these phone interface technologies use voice recognition to make it quick, safe and easy to access your music, make phone calls or send text messages using plain-English voice commands. Likewise, you can get turn-by-turn navigation directions to the address of your choice by simply asking.
Classic Style and Intuitive Interface Look Great in the Dash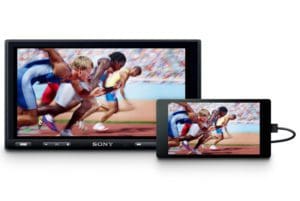 Sony has eschewed fancy colors and lines to offer a clean look that looks great in the dash of your car or truck. Six hard buttons, a large bezel-less 6.95-inch display with a capacitive touch interface and easy-to-understand menu options make this radio look great while streamlining the process of learning all the functions.
The AX5500 includes Bluetooth hands-free calling with an external microphone and high-quality audio streaming with album art display capability, thanks to AVRCP 1.3. You can have your retailer upgrade the radio with an SXV300v1 SiriusXM satellite radio tuner module for genre-specific music, information and entertainment.
Dual USB ports allow you to connect your smartphone for Apple CarPlay, Android Auto or WebLink Cast connectivity and play MP3, WMA or FLAC audio, or MP4, WMV or MKV videos from a USB memory stick connected to the other port. The USB ports provide 1.5 amps and 500 mA of charging current.
Vehicle Integration Features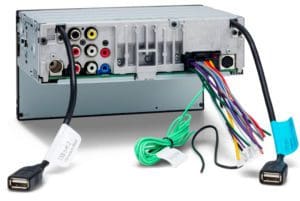 The XAV-AX5500 has a dedicated backup camera input jack so your installer can connect a backup camera and have it display automatically when the vehicle is in reverse. The radio also includes support for steering wheel audio control interfaces so you can use the factory buttons to change volume, tracks or stations.
The amplifier built into the AX5500 is rated to produce 20 watts of power into each of four channels. The radio includes adjustable electronic crossovers so that the built-in amp can be optimized for use with an external subwoofer system. Speaking of signal processing, the radio includes Sony's Dynamic Soundstage Organizer. It helps create a realistic soundstage across the dash of your vehicle and is adjustable to accommodate any type of vehicle. Your installer can further fine-tune the sound of your system with the built-in 10-band equalizer and Extra Bass processing.
Installer-Friendly Design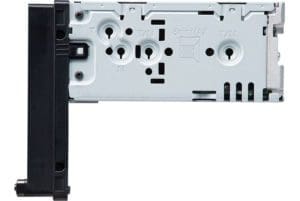 Your installer will love integrating the XAV-AX5500 into the dash of your vehicle, thanks to the compact chassis design. Instead of being 4 inches tall by about 6 inches deep, the rear chassis is 2 inches tall and an inch shorter. This design leaves more room for interface modules, wiring and RCA cables that are typically tucked behind the unit.
Upgrade Your Driving Experience with the Sony XAV-AX5500
If you're shopping for a new radio for your car or truck, drop by your local authorized Sony car audio retailer and ask for a demonstration of the XAV-AX5500. From its intuitive interface, great looks and quick start-up process to the fantastic features and sound quality, we are sure you'll be impressed. To learn more about this radio or any of the amazing Sony car audio products, visit their website. Be sure to follow them on Facebook, Twitter and Instagram to stay up-to-date with the latest product releases.
This article is written and produced by the team at www.BestCarAudio.com. Reproduction or use of any kind is prohibited without the express written permission of 1sixty8 media.